Your bathroom remodelling project comes with a staggering number of decisions. One element that defines the rest of your bathroom design choices is the colour palette. That's why it's so important to choose the perfect bathroom colours.
Whether you go for neutral colours all over your bathroom or add a feature wall, the colours you choose will dictate your design choices. Embracing a colour palette will give your bathroom a cohesive look, and make you feel more at home!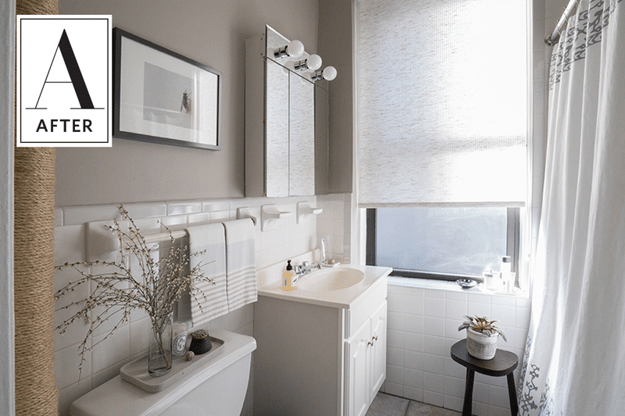 Neutral Colours
To bring calmness and serenity into your bathroom, we recommend going for a neutral colour scheme. This includes shades of cream, grey, and taupe.
Start by choosing the perfect colour for your walls, and let it flow into your towels, fixtures, and bathroom accessories. A neutral colour palette will make your bathroom feel larger than it is.
If you'd like to freshen up your dull mirror, you can install a DIY mirror frame and paint it a colour that pops against your walls.
The bathroom pictured above comes from New York City, highlighted on Apartment Therapy. Designer Paula E. Guzman was tasked with making a cramped apartment bathroom feel larger. To do this, she used neutral colours and calming accents like bathroom plants.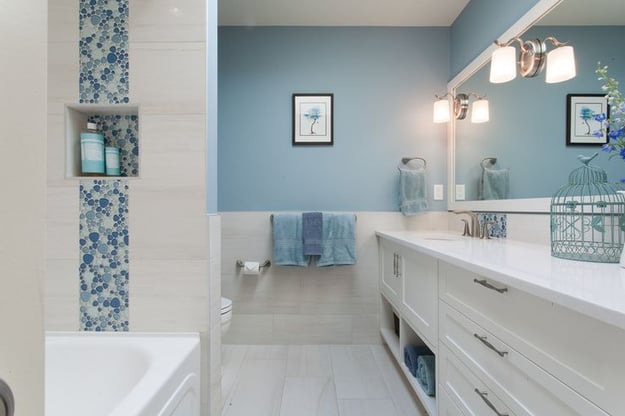 Calming Blue
If you're looking for a low-risk colour for your bathroom, look no further than blue. Painting your walls a light shade of blue will turn it into a place of serenity.
The bathroom pictured above even brings blue into the shower, through a pebble tile accent. This is a great look, especially if you're going for a spa-like ambiance in your bathroom. We love how they also added an alcove for toiletries, and used the pebbles to accent it.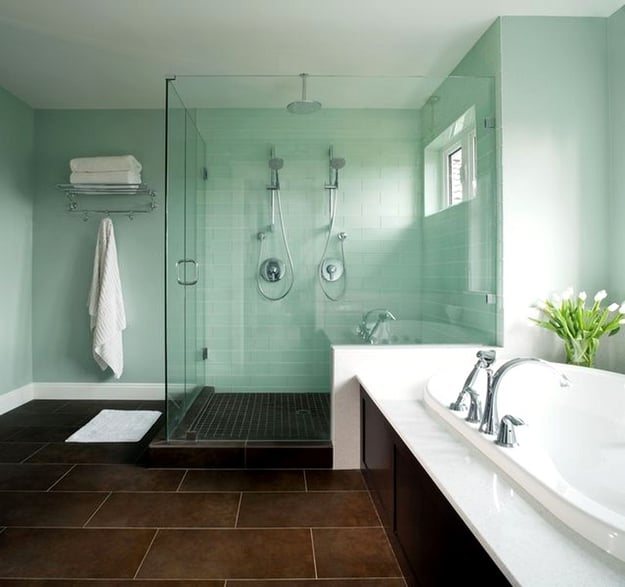 Fresh and Green
Whether you bring green into your bathroom through a house plant or by painting the walls, this colour is sure to bring relaxation to your home. There is a reason that green is so common in spas, after all.
Pastel shades of green and blue can act as neutrals, but with a bit more personality. A light green colour on your walls that blends into the tiles in your shower will make your bathroom feel larger than it is. Add in a bathroom plant and you're on your way to your own personal spa.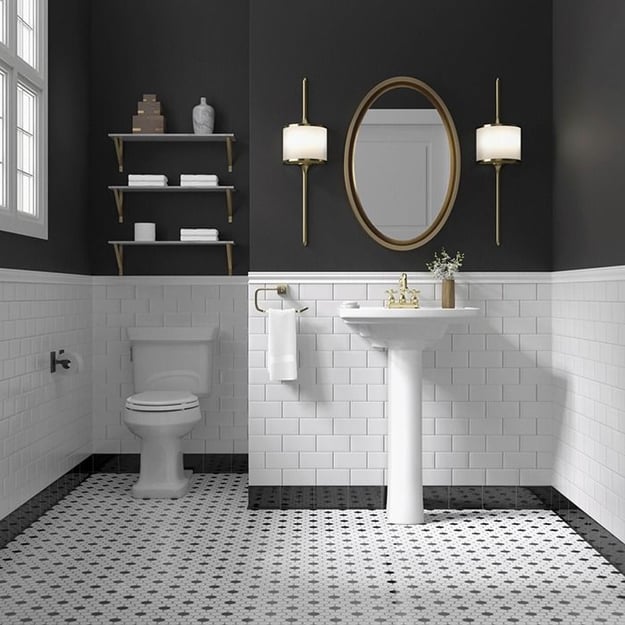 Black and White Bathroom
A black and white bathroom may sound a bit stark, but it does not have to be! There are so many things you can do with black and white, especially when it comes to tiles.
The bathroom pictured above features black and white penny tiles, a trendy design element. This style is common in farmhouse and traditional bathrooms, and we can see why. You can arrange penny tiles in many ways, meaning your bathroom floor can be as unique as you are!
Beach Themed
Want to feel like you're at the beach year-round? Turn your bathroom into a make-shift tropical vacation!
We're not suggesting coating the floor of your bathroom in sand (no thank you), but adding sea shell accents is a great way to liven up your washroom. Paint the walls a pastel yellow colour and add some decals or hand paint sea shells around the vanity. You could also install shiplap on the walls to truly embrace a beach shack look.
This is a great theme for a kids' bathroom, and you can make it more mature as they age. Add in some photos or art prints of a beach, and you've got yourself a perfectly themed bathroom. To personalize it even further, choose images of a location your family has visited!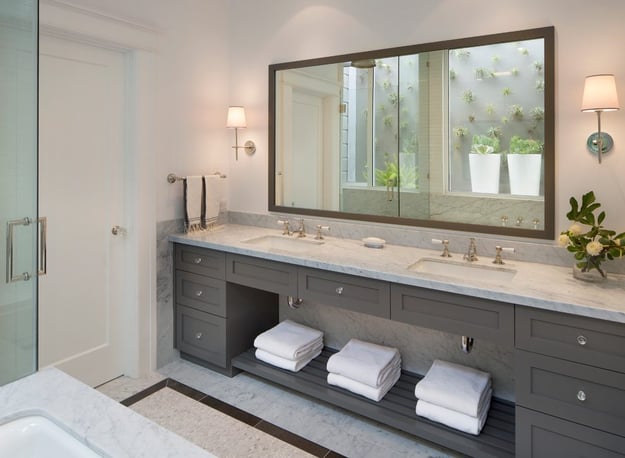 Add in Some Charcoal
If you feel that light, neutral colours are a bit too quiet for you, but you're not ready to bring in colours, try adding charcoal accents. This will make your bathroom feel more defined, and add some warmth to the space.
Consider painting your vanity charcoal, and keeping your walls a lighter grey. This will make your vanity stand out in the room, making it a focal point, as it should be.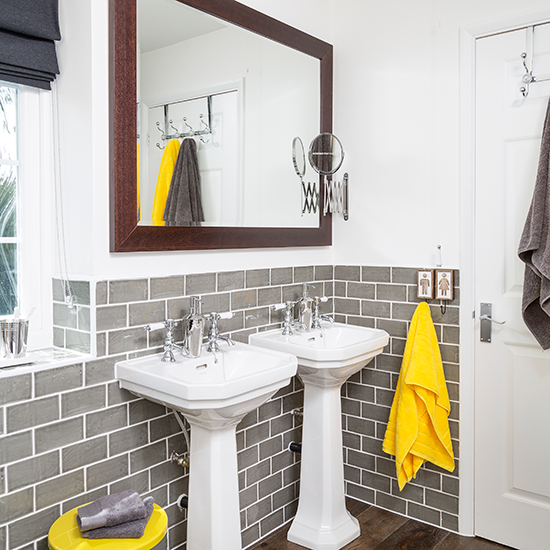 Pop of Colour
Adding pops of colour in the form of lower-cost accessories is the perfect way to switch up the look of your bathroom without repainting. Keep the walls and fixtures neutral, and bring in new towels or toothbrush holders each season. You'll be amazed at what a few new hand towels can do to a bathroom!
---
Are you ready to transform your bathroom? Stop into your local Kitchen & Bath Classics showroom to see how our consultants can help.