The mirror is a focal point of your bathroom. So, use your bathroom mirror to do more than reflect just your appearance, but to also reflect your overall design style.
Whether it's to help you in putting on makeup, brushing your teeth, putting in your contacts or styling your hair, a good mirror is a bathroom essential. With that in mind, here are a few inspired ways you can make your mirrors a unique and attractive feature of your bathroom, reflecting your personal style: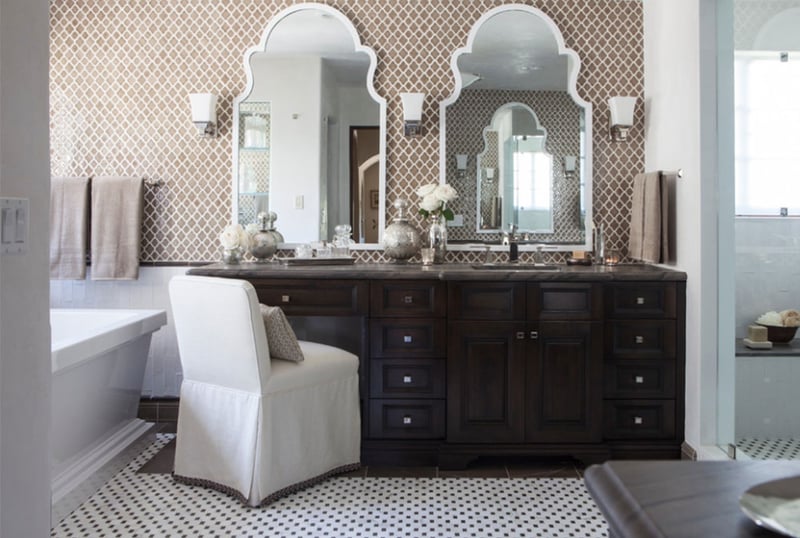 1. Choose an Unconventional Shape
Beautiful bathroom mirrors don't have to just be round or square – they can be whatever shape fits your personality! Don't hold back. Everything from a heart-shaped mirror in a honeymoon suite or an ornately decorated oval in a guest bath, your mirror can act as a statement about your taste rather than simply what is trendy or popular.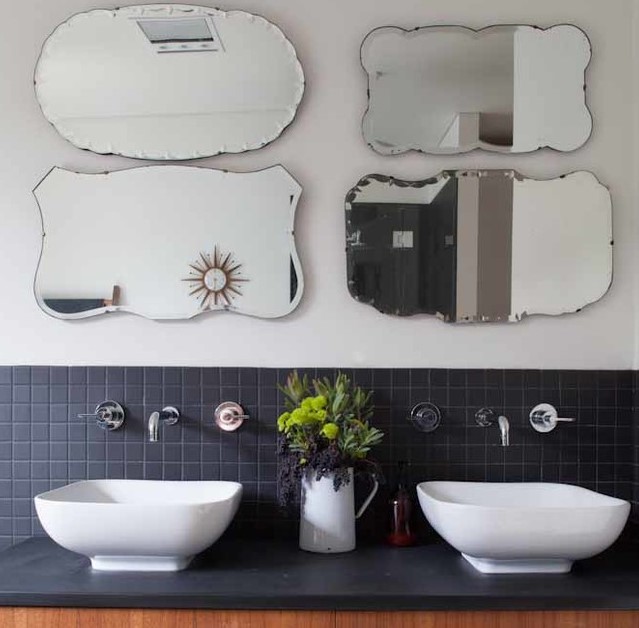 2. Double It Up
Create a bathroom that's twice as nice. Even if you only have a single sink, pairing two mirrors can be a great way to reduce congestion in a bathroom you share with your spouse. You don't need to stop there, though. Try duplicating the style even three times for a unique bathroom mirror look. The more, the merrier!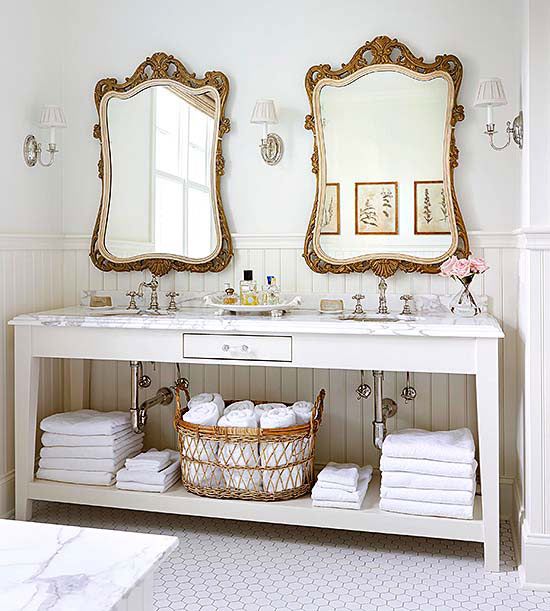 3. Go Vintage or Vintage-Inspired
Mirrors that evoke the decor of a bygone era can be a stylish addition to your bathroom. Vintage or vintage-inspired décor pieces can form the foundation of a retro bathroom design. Even the spider-webbing rust and discolouration that often happens with older mirrors can be turned into a feature.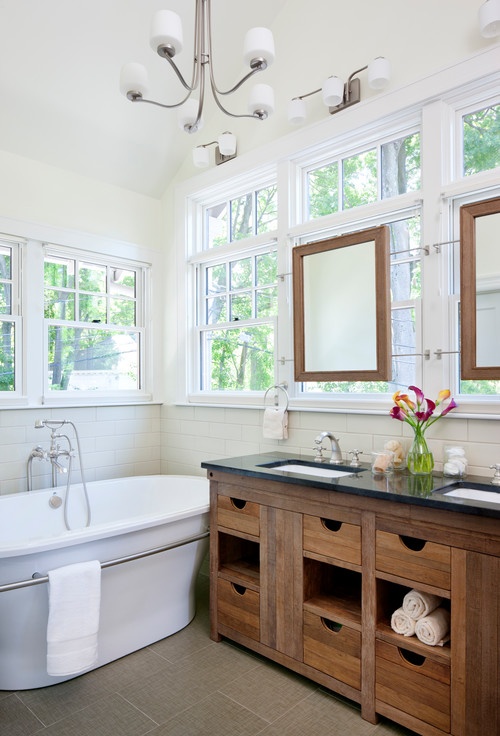 4. Mirrors Over the Window
It might sound crazy, but a narrow, long mirror mounted over a bathroom window – allowing light to pass through on the top and on bottom – is a funky way to take advantage of natural light.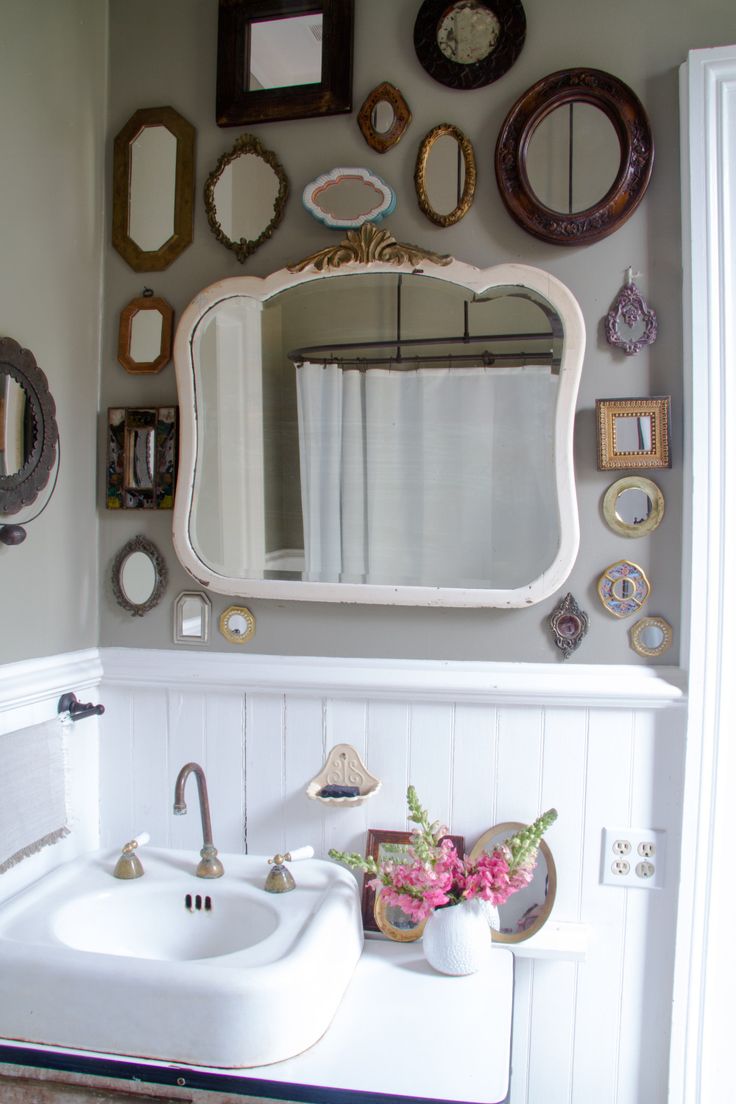 5. Mixed and Matched Mirror Sizes
Having one large central mirror over your sink is always a good design engineering move, but adding different sizes and shapes with smaller mirrors can prove both stylish and functional.
Collect a few different styles and/or sizes of mirrors and hang them in your bathroom for a unique look. Place them on the wall in a gallery-wall-style arrangement, and keep them all on one wall to avoid a funhouse effect. Be sure the bathroom mirrors vary and compliment each other. You don't want the mirrors to be competing.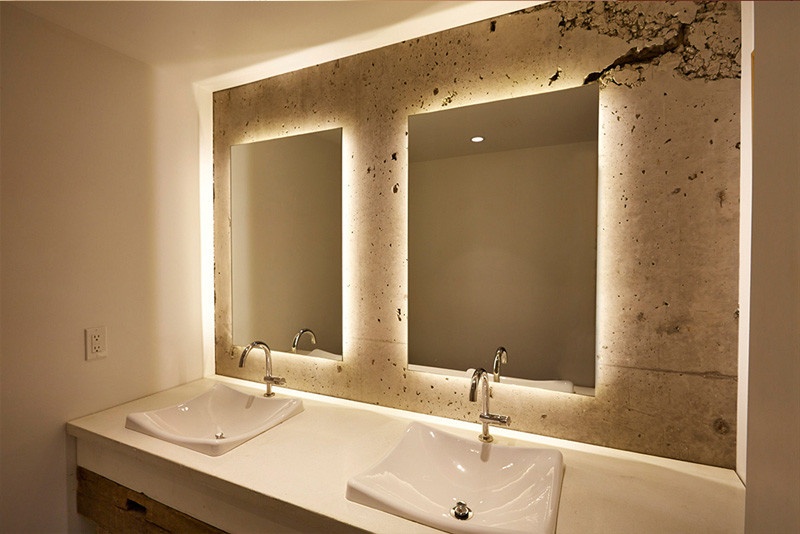 6. Backlight Mirrors
Sometimes having an overhead or bulb light can be a bit too harsh. Why not try backlighting your mirrors using strips of LED? These lights come in a variety of different tones and colours. Backlighting is perfect for applying makeup and seeing small facial details.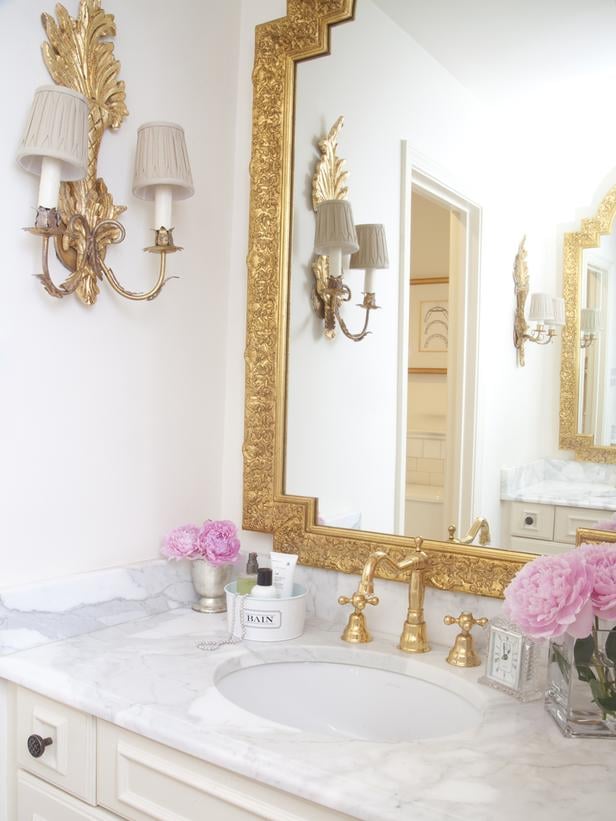 7. Gilded Mirrors
If you want a lux look, go for gilded mirrors. A gold trim can add a touch of brightness, shimmer and elegance to a mirror.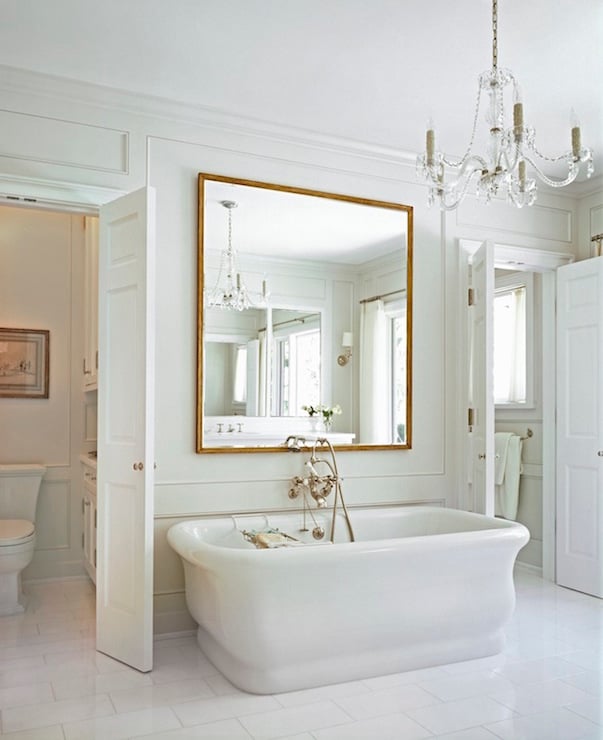 8. Don't Stop at the Sink
Who says that you can only place a vanity mirror over the sink? Consider framing your sink with multiple mirrors, which is all the better for capturing alternative angles, making it easier to get your outfit or overall look just right. These can even make your bathroom appear more spacious through an optical illusion.
You can even place a large statement mirror over your bathtub! Just make sure to avoid angles that capture less visually attractive aspects of the bathroom, like the toilet.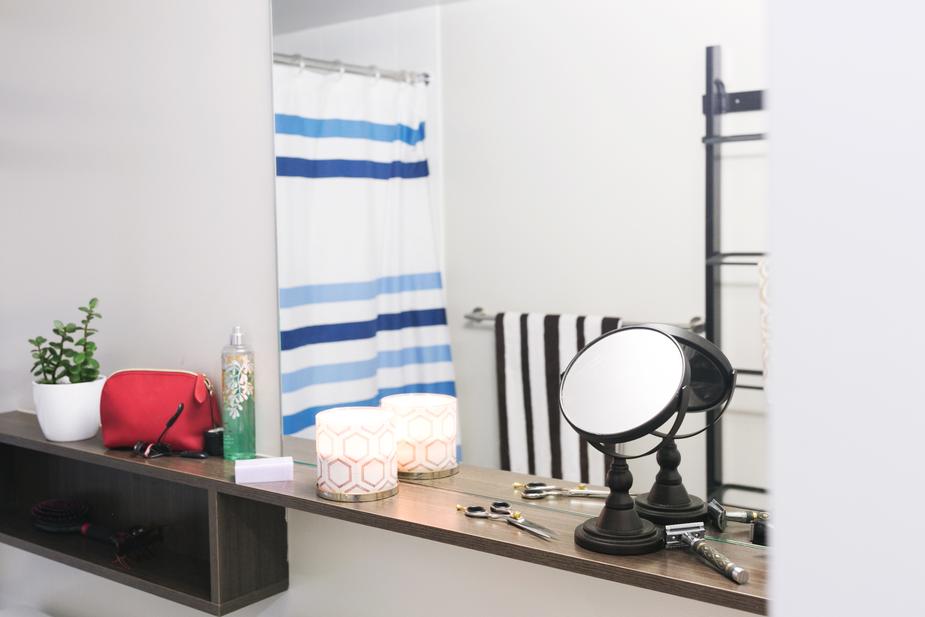 9. Mount Artwork That Plays with Reflections
Feeling playful? Try putting up paintings or artwork that feature backwards text or only half of a figure. When mounted next to a mirror, the reflection can become part of the art!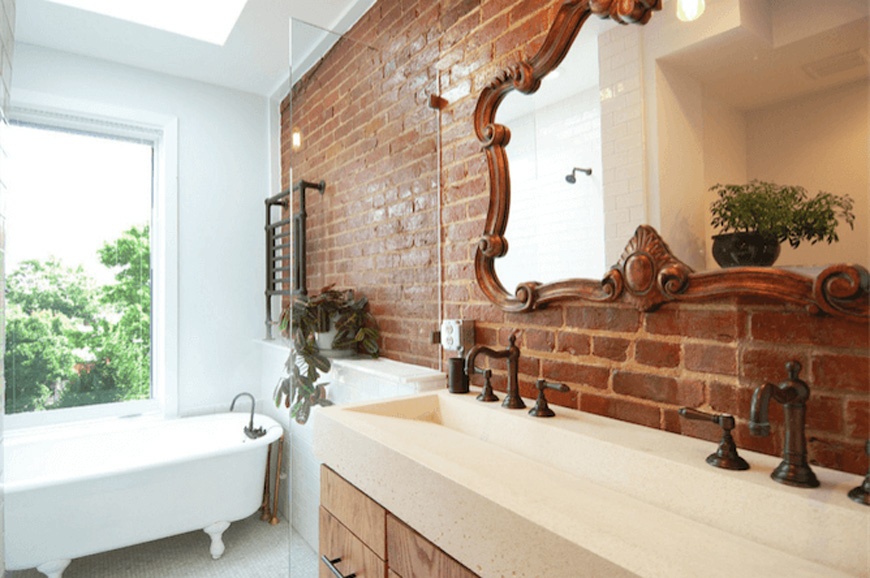 10. Go Simple with Rock and Exposed Brick
If your bathroom wall uses rough hewn rock or exposed brick, keeping your mirrors simple and frameless is ideal to compliment the natural look.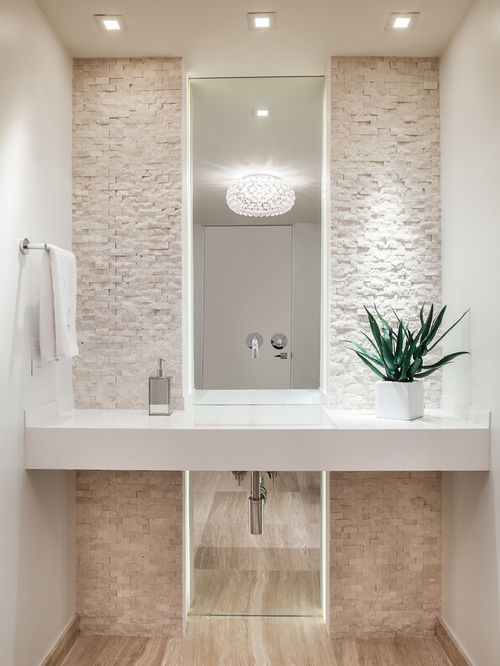 11. Long and Lean
A long, lean vertical mirror works well with long shower curtains and paintings that lengthen the feel of a small bathroom.
12. Suspend It
Rather than the traditional mounting, why not try something funky and off-beat? While most mirrors are hung on a wall, you have other options for hanging a washroom mirror. Try suspending your bathroom mirror. Or, for an informal look, try just having a mirror resting on a narrow shelf.
To suspend a bathroom mirror, use a visible rope or wire to hang the mirror. Take a look at various materials and choose your favourite to hang the mirror from. For instance, you could use a thick rope, creating a nautical-look, or opt for a more modern vibe by using wire. Whatever you choose, make sure it's secure!
---
The humble bathroom mirror is an important element of your overall design. Once you choose the right vanity mirror for your bathroom, you'll need to complete the look. Want some help choosing lighting, faucets, toilets or other elements to finish off your bathroom design? The experts at Kitchen & Bath Classics showrooms are here to lend a hand. Stop by today to learn more.