When it comes to cutlery, brands and types of kitchen knives are plentiful. But that doesn't mean that you need to collect every single knife for your kitchen. Instead, choose wisely when shopping for your kitchen knives and know what you're looking for and what you need.
There are six essential kitchen knives that anyone, regardless of skill level, should keep in their knife block. Keep reading for all you need to know about these most necessary knives.

1. Bread knife
Featuring a long, rectangular blade with a serrated edge, bread knives will make a big difference in your kitchen. The bottom of a bread knife is serrated with small groves. Thanks to the serrated edge and length of the blade, a bread knife can cut through bread without squishing it. You can also use a bread knife to cut tomatoes and citrus fruits.
When you're on the hunt for a bread knife, look for one that is longer than a typical loaf of bread is wide. Unlike typical recommendations for other kitchen knives, look for a bread knife with a slightly flexible blade, Cut It Fine says. According to Cut It Fine, "a flexible blade is more adaptable to different types of breads, cakes, and other soft foods upon which you may be using this knife."

2. Chef's knife
A good quality chef's knife is usually considered the best kitchen knife. This is one of the most important knives in a chef's arsenal. In fact, most chefs use this knife for all of their cooking preparation tasks. Chef's knives are available in all different lengths, and you can use them to slice, dice, and chop.
When shopping for your key kitchen knives, look for a chef's knife with a blade made of high-carbon steel. This metal is very hard and will keep its edge for a while. Ordinary carbon steel chef's knives are also an option, though these are made of relatively softer metal, which dulls more easily and quickly.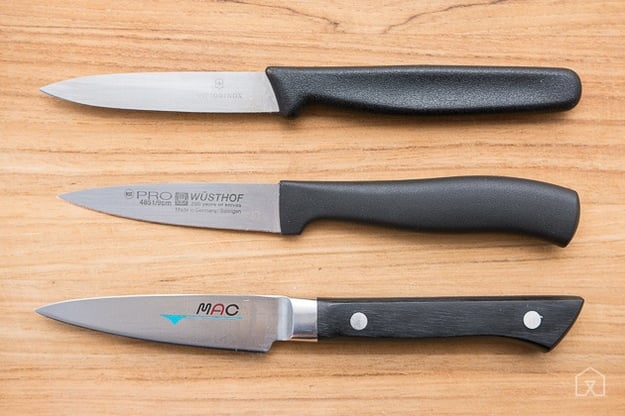 3. Paring knife
Another indispensable kitchen knife is the paring knife. With an average blade length of 3 ½-inches, paring knives are useful for smaller and more precise tasks. For example, when peeling, trimming, and slicing small fruits and vegetables, a paring knife would be the best tool to use.
However, keep in mind that you should avoid using paring knives to cut very hard vegetables like carrots or parsnips. According to Epicurious, "these smaller knives don't carry enough weight to easily slice through the foods, which may prompt you to increase the pressure or tighten your grip as you're cutting."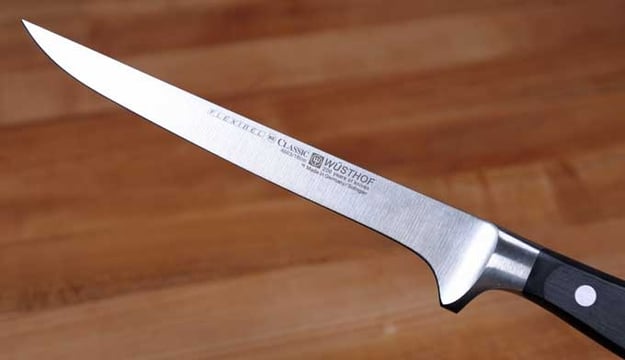 4. Boning knife
Boning knives have narrow blades and curve inward. Features of the boning knife allow you to have precise control when removing meat and poultry from the bone. You can use boning knives to cut up or bone fish, meat, or poultry of any size.
While the name implies that this knife can cut through bone, that's not how these kitchen knives should be used. Instead, the boning knife functions similar to a jigsaw to cut around bones.

5. Santoku knife
The Santoku knife has roots in Japan, and combines the benefits of a cleaver and a chef's knife. "Santoku" means "three virtues". Living up to its name, the Santoku knife, like a chef's knife, is multipurpose and can be used for a number of kitchen tasks.
Santoku knives contain a round, cleaver-like tip along with a "Granton edge." According to The Spruce, "a Granton type of knife blade has a row of identical dimples (or scallops) that have been ground into each side of the blades of knives." These knives typically remain sharp for a long time. Use these super versatile knives for mining, dicing, and slicing in the kitchen.

6. Carving knife
Although generally slightly less used than the popular chef's knife, carving knives are a crucial part of kitchen supplies. Carving knives are longer and thinner than a chef's knife, and they are used to cut thin slices of meat off of large roasts.
When using a carving knife, practice a "sawing" motion for cleaner cuts. According to Top Rated Kitchen, carving knives range from 7-inches in length to 15-inches, and they can either have a rounded tip or a pointed tip. Whether it's a weekly family dinner or a fancy holiday party, having the right carving knife is essential.
Cutlery, like any essential kitchen utensils, are typically a large part of everyday cooking routines. This means you should stock your kitchen knife block with quality tools that will do the best job for your usual tasks. Follow the guide above when looking for vital kitchen knives, and head to a Kitchen & Bath Classics showroom to chat with one of our consultants about the rest of your kitchen's needs.