One of the easiest ways to add some personality to your home is through tiles. There are so many options available these days that you can transform your home with some tiles and grout! And in your kitchen, the possibilities are limitless. You can use kitchen tiles on almost every surface, from your floor to your countertop and backsplash.
Not only are tiles versatile and beautiful, they are also easy to clean! All you need is a sponge, soap, and hot water to tackle typical messes around your kitchen.
If you are getting ready to take on a kitchen renovation project, consider taking advantage of tiles. Here are three different ways to use tiles in your kitchen, and some ideas to inspire you!
Kitchen Tiles on the Floor
If you've ever been in a kitchen, it's likely that there were tiles on the floor. Whether they were ceramic, porcelain, stone, or another material is a different story.
When you're looking for tiles for your kitchen floor, it can be easy to resort to the most basic option. But there are so many styles available that this does not need to be the case.
From penny tiles to large ceramic tiles and everything in between, the options for your floors are endless. You can even play around with multiple colours to bring a creative flair to your kitchen!
How to Lay Tile Floors
The first step to tiling your floor is applying a layer of thin set to the blank floors and smoothing it over with a trowel. Next, set a backer board down over the thin set and screw the piece down. Repeat until you cover the entirety of your floor.
Add another layer of thin set to the top of the backer board, and then begin laying down your tiles. Remember to keep the tiles straight and flat, and consult a professional if you would rather leave the task to someone else.
Finally, clean any excess thin set as you go, as you don't want it to dry up and cause your floors to feel rough. You will also need to apply grout in the colour of your choice to keep the tiles in place.
Kitchen Flooring Ideas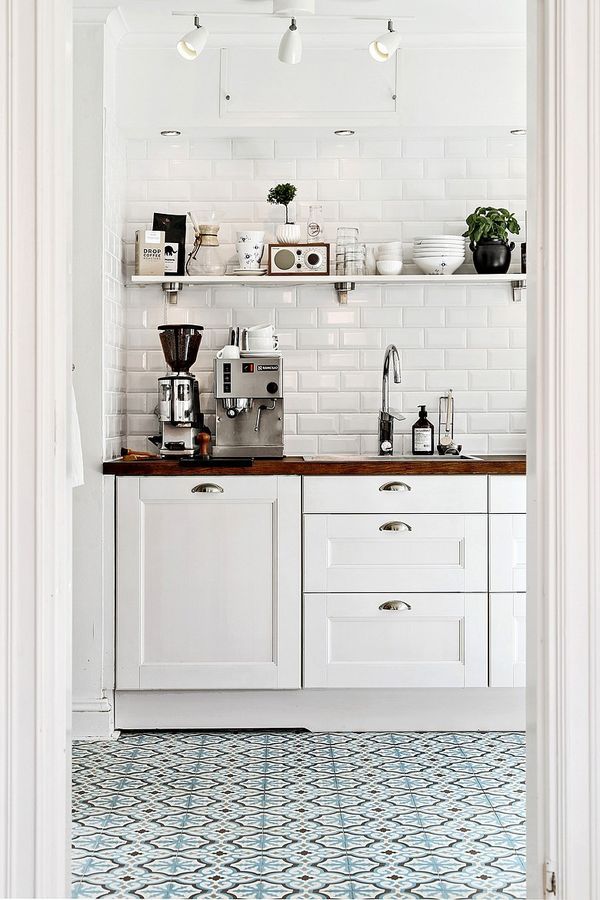 Complement a neutral kitchen colour palette and butcher block countertops with a painted tile floor. This kitchen features subway tiles as a backsplash, and patterned tiles on the floor.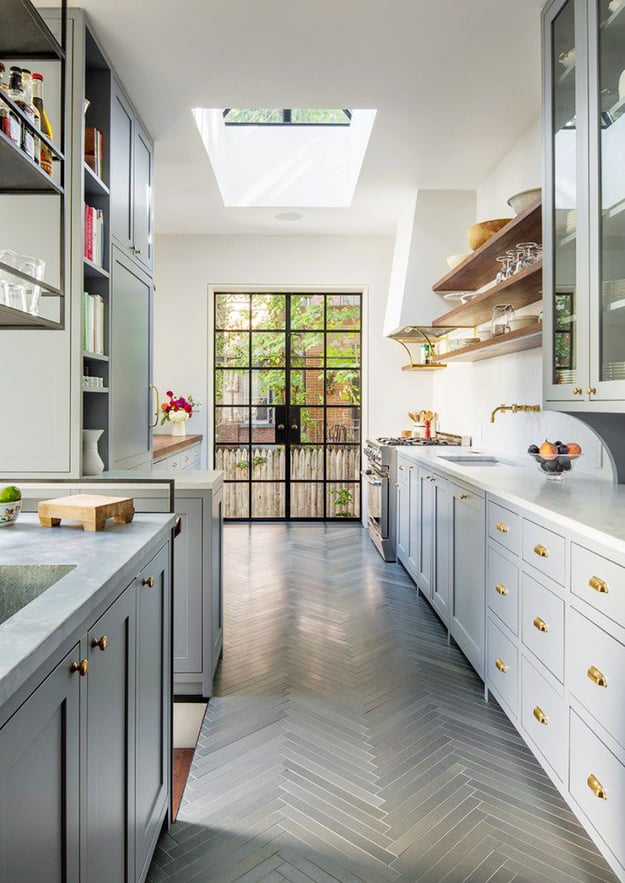 Herringbone is a major trend in interior design this year. It's especially impressive when used with long, impressive floor tiles.
This kitchen uses a herringbone design to elongate the kitchen, making it look larger than it is. If you have a galley kitchen in your home, this is a great way to maximize the space.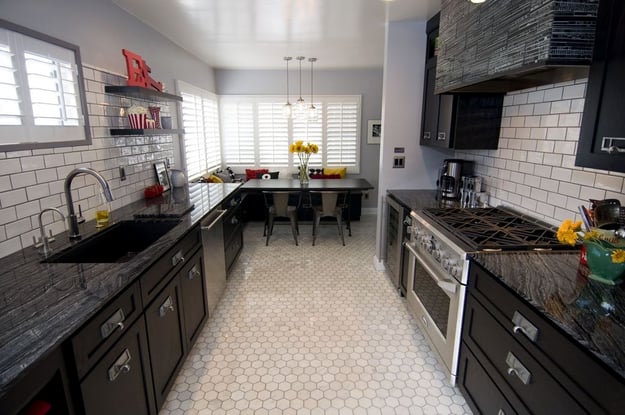 Another trending design in kitchen tiling is larger hexagonal tiles. These tiles are often made of marble or glass, and look like larger penny tiles. Hexagonal tiles are more difficult to install than rectangular ones, so we recommend hiring a professional.
Looking for a non-tile kitchen floor? Read our kitchen flooring options blog to find inspiration.
Tiled Countertops
Your countertops are where you'll spend most of the time in your kitchen. From chopping and mixing to storing appliances, this space is crucial.
If you feel that it's time for your countertops to get an update, consider tiled counters. Whether you're going for a retro look or something more Mediterranean, tiled countertops are perfect for almost any style!
How to Install a Tiled Countertop
Like any tile installation project, it is always better to be safe than sorry. If you are not comfortable installing tiles on your countertop yourself, reach out to a professional. Otherwise, keep reading to find installation tips from DIY Network!
Apply thin set to the plywood surface.
Lay the backer board panels on the thin set.
Screw the backer board into the plywood.
Join the field joints using alkali-resistant tape.
Set the tiles on the counter with room for a grout joint and mark the lines with a pencil to determine how many pre-cut tiles you need.
Wet the backer board and apply the thin set.
Use a trowel to comb the thin set to ensure uniform spread.
Begin placing the tiles and tap with a rubber mallet to secure in place.
After placing all tiles, wipe off any excess thin set.
Let dry for 24 hours before placing anything on the counter.
Tiled Countertop Ideas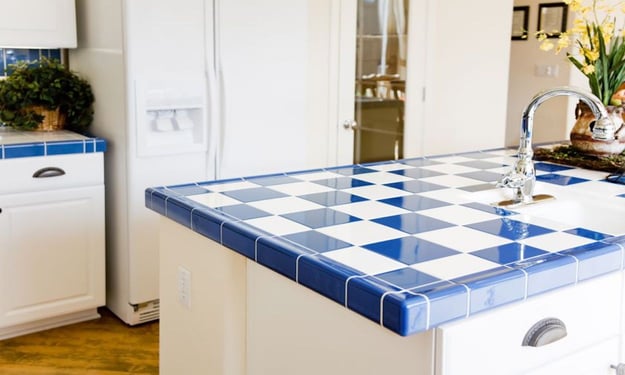 Retro style is totally back, just look at these countertops! This look is perfect for a quirky farmhouse kitchen, accented by a bright KitchenAid mixer.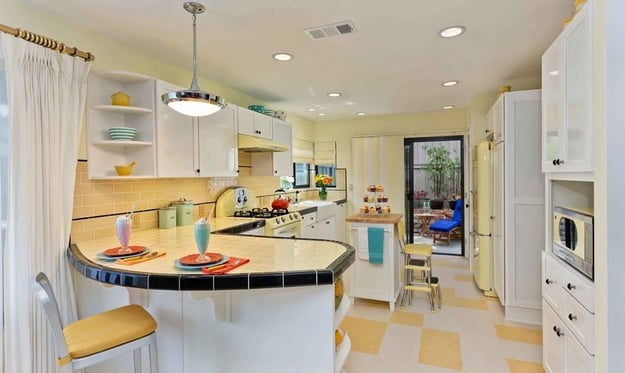 If you really want to embrace the retro look, why not install this yellow tiled countertop with a black border? To make it even more nostalgic, add a pastel stove and fridge!
Tiled Kitchen Backsplash
Want to protect your walls from splashing and stains? Of course you do! The best way to do this (that doesn't involve plastic wrap) is with a backsplash.
A backsplash is a section of your wall (between your counter and upper cabinets) covered in tiles. If you don't have upper cabinets, it can still be placed above your counters with a border or defining row above the splash zone.
Try creating extra visual interest by adding a design or feature behind the range. This will also help protect your walls from extra-high splashes while you're cooking.
Tiled Backsplash Ideas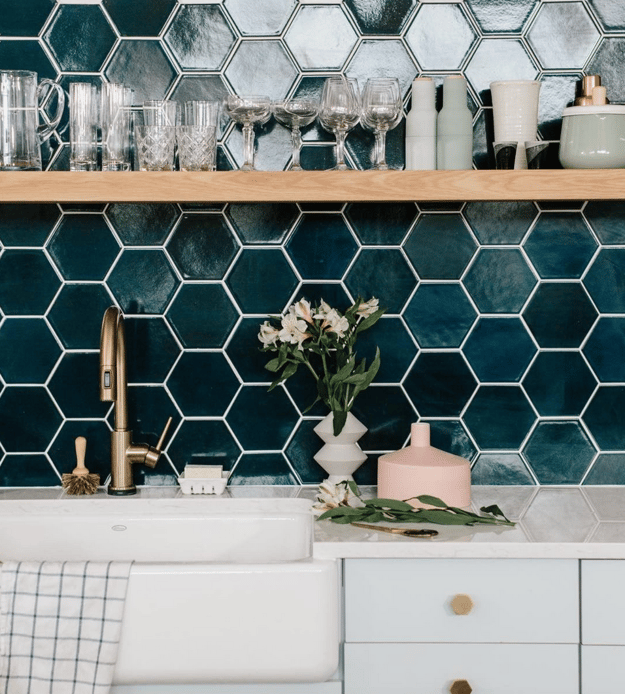 This beautiful kitchen features a backsplash with deep teal hexagonal tiles. With white countertops and a contrasting backsplash, this kitchen has the perfect amount of visual interest.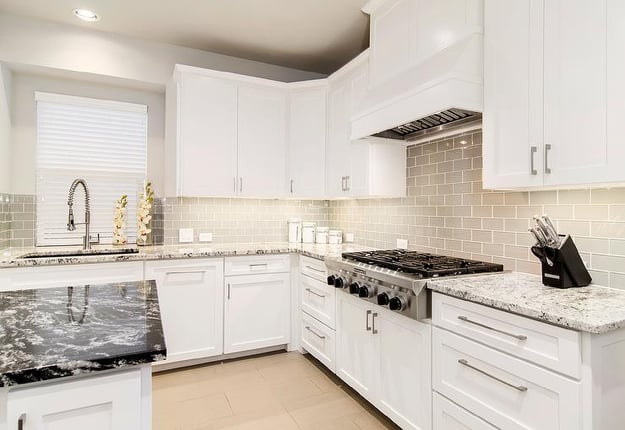 Installing a glass tiled backsplash is a great way to make your kitchen look more expensive. This kitchen features simple glass subway tiles, but the simple material change elevates the whole look.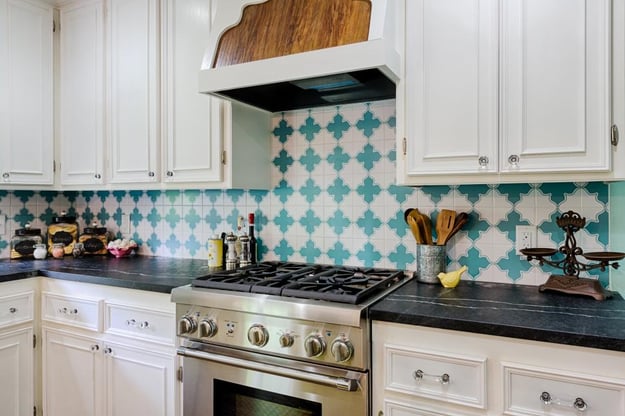 Bring colour into your kitchen with a painted tile backsplash. If you want to bring a bit of flair and personality into your kitchen, you're sure to find a painted tile perfect for you.
---
To complement your tile project, consider updating your kitchen with a new faucet or sink. Stop into your local Kitchen & Bath Classics showroom to see the wide range of products we have available.