A laundry room sink, also called a utility or laundry sink, can be a major convenience if you have the space for one in your home. These sinks are useful for hand-washing clothes, treating stains, or even just cleaning up around the house. There are many sizes available, including small laundry sinks, larger laundry tubs, or even double laundry tubs.
While the simplest laundry room sinks are standalone, floor-mounted utility sinks, according to HGTV, you have plenty of options of materials, styles, and sizes to choose from for laundry sinks. Consider the following when picking the perfect laundry sink:
1. Consider the Installation Style
When it comes to laundry sinks, since there are different options of basin types, there are also different installation styles. You have four different options to choose from for the installation style for your laundry room sink including, drop-in, undermount, wall-mounted and floor-standing, and portable.
Since your sink will usually stay in a permanent and fixed location in your home for years to come, you'll want to ensure you choose something that fits your needs long-term and consider any updates you may want in the future. Check out details on the four installation styles below: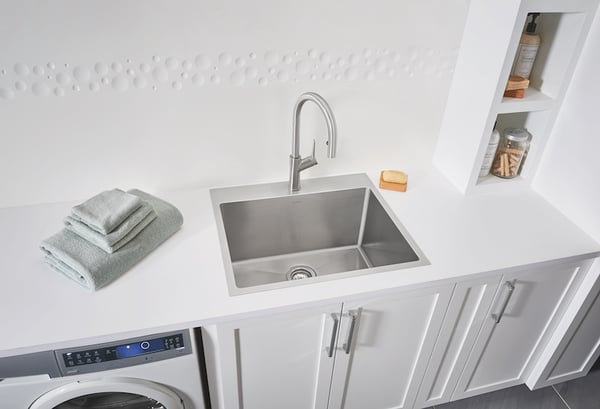 Blanco drop-in laundry sink, available at Kitchen & Bath Classics
a. Drop-in
The drop-in installation style for laundry room sinks is also referred to as self-rimming or over-mount sinks. These sinks fit into a hole that has been cut into the countertop. The basin then sits below the counter with only the rim of the sink remaining above.
This style is fairly easy to install. And, drop-in sinks usually work well with most countertops or surfaces you may have in your laundry room.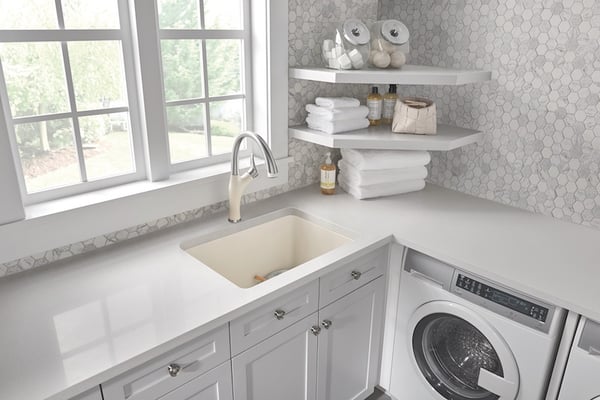 Blanco undermount laundry sink, available at Kitchen & Bath Classics
b. Undermount
Undermount style laundry sinks are installed completely underneath a counter so that the countertop completely covers the edges of the sink. This installation style will give the sink a contemporary look and makes cleaning easy, as you can simply wipe things into the utility sink from the counter.
Additionally, some undermount laundry sinks come with matching covers so you can cover the sink to make extra counter space when the basin isn't in use.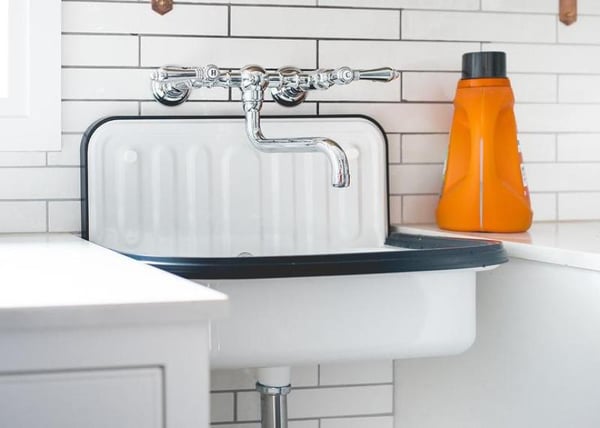 c. Wall-mounted and floor-standing
These types of utility sinks are installed away from countertops as stand-alone sinks. This installation style can be beneficial when you have messy washing tasks that might get countertops dirty.
2. Pick Your Ideal Material
One of the major factors in choosing the perfect laundry room sink is its material. Consider the following popular options for utility sinks below: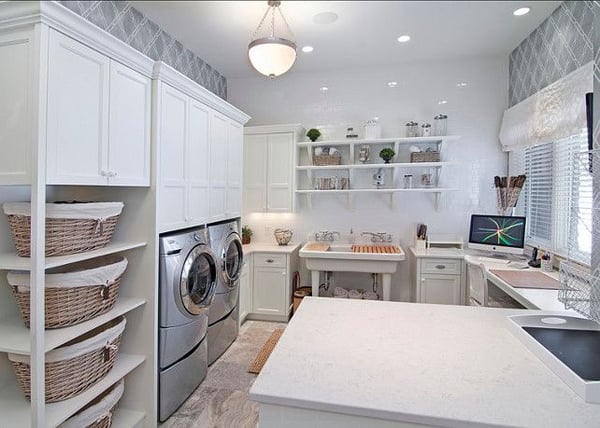 a. Cast iron
A traditional sink material, cast iron sinks are coated in enamel for a heavy-duty product. This allows the sink to withstand high water temperatures and years of wear and tear. Although made to hold up over time, eventually, the enamel of the cast iron may chip, leaving the sink with exposed metal.
Cast iron utility sinks will require maintenance, as exposed metal will rust, a homeowner must re-glaze enamel on a regular basis.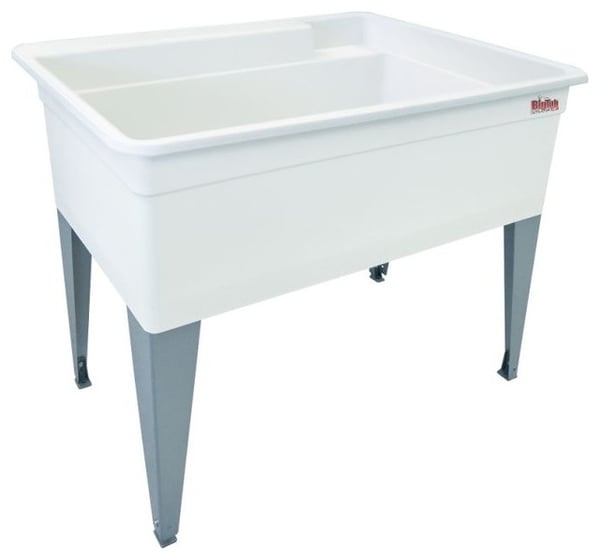 b. Acrylic
Another choice of material you have for your laundry sink is acrylic. Acrylic is a lightweight but durable laundry sink option that is resistant to scratches and stains. If you're considering an acrylic sink, keep in mind that they are louder than other materials when water hits them. Plus, they aren't as heat resistant as the other materials you have to choose from.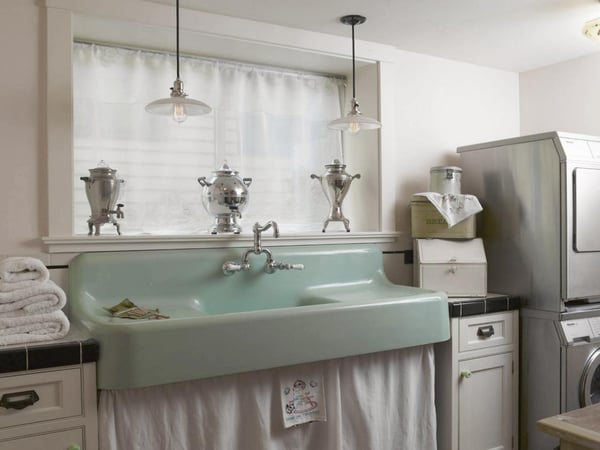 c. Porcelain
Porcelain sinks have a classic shine and timeless beauty that can sometimes make them too nice looking for some utility rooms. However, with their appeal and timeless beauty aside, porcelain sinks are very heat resistant and easy to clean, which makes them of ideal use for a laundry or utility room.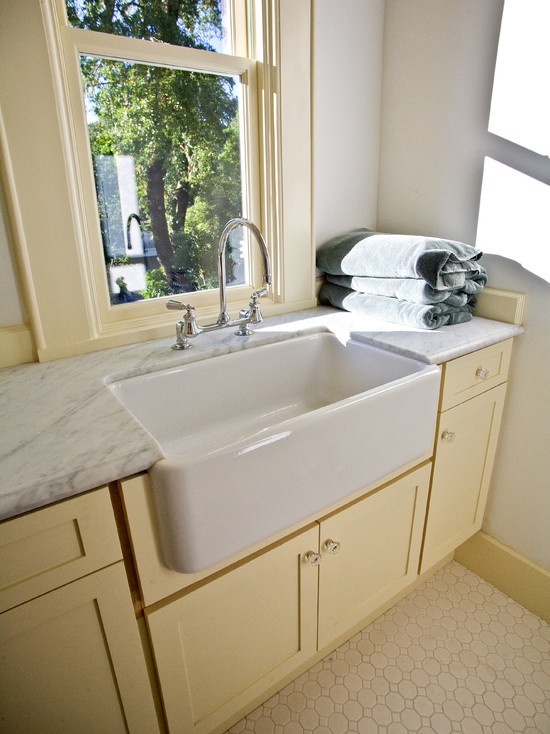 d. Ceramic
Ceramic laundry sinks are fired at very high temperatures. This creates a non-porous surface, which is resistant to stains ore so than any other laundry tub material. This material is also fairly easy to clean, sturdy, and has an appealing shine.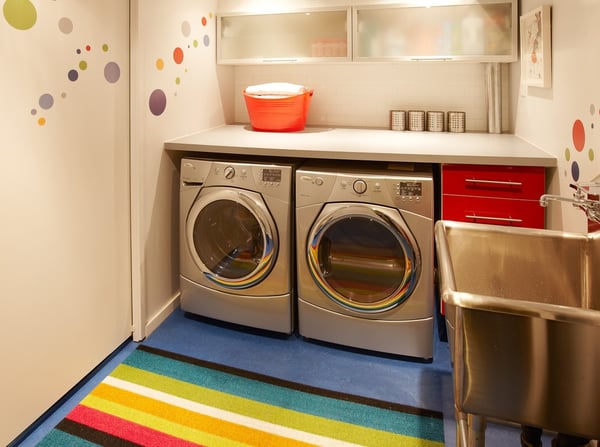 e. Stainless steel
Lightweight and easy to clean, stainless steel sinks can be a classic go-to for laundry and utility rooms. These sinks have a somewhat industrial look and feel that can be a perfect fit for a more utilitarian space. However, keep in mind that like acrylic sinks, stainless steel laundry tubs or laundry sinks can be loud when hit by water.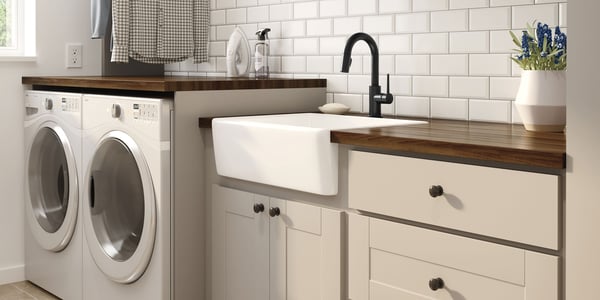 Delta faucet, available at Kitchen & Bath Classics
3. Choose the Right Utility Faucet
Lastly, when deciding on the perfect sink for your laundry room, you'll need to consider the sink faucet. As is always the case when choosing the best material for fixtures around your home, consider the resilience, design, and cost of the laundry tub faucet for your utility room or laundry room.
Some of the most popular options of material for a laundry taps include the following:
Brass
Chrome
Copper
Pewter
Stainless steel
Nickel
When looking for the right utility faucet, you'll also want to consider the spouts and valves. For spouts, you can choose from aerated or non-aerated options. Valves may not make a noticeable difference in your day-to-day use of your sink, but it can affect the long-term durability of the laundry sink faucet.
Also, choosing a low-flow faucet for your laundry tap can be one simple way to stop wasting water around your house. To check out eco-friendly fixtures for your laundry tub and other kitchen and bath fixtures, stop by a Kitchen & Bath Classics showroom today.