Between hair brushes and hair tools, makeup, extra towels, toilet paper and other bathroom supplies, storage space in a bathroom is essential. If you have a pedestal sink, you may find yourself with limited storage options at first. However, there are ways to create more pedestal sink storage space.
Follow these seven ideas and you'll have plenty of storage in your bathroom in no time:
1. Hang a shelf (or a few!)
If you have pedestal sink storage issues, add a shelf above the sink to give you easy access to things you use daily. Shelves are a great addition to any bathroom with a pedestal sink, as shelves provide storage options more than just placing things below the sink or on the floor.
Give a glass shelf a try in your bathroom above your pedestal sink. This will keep things light and airy and won't be ruined by water that gets splashed around.
Additionally, you can install shelves around the bathroom, and don't forget an over-the-toilet shelf. The area above your toilet is a great spot for some organizer shelves, or possibly a cabinet if you have enough room.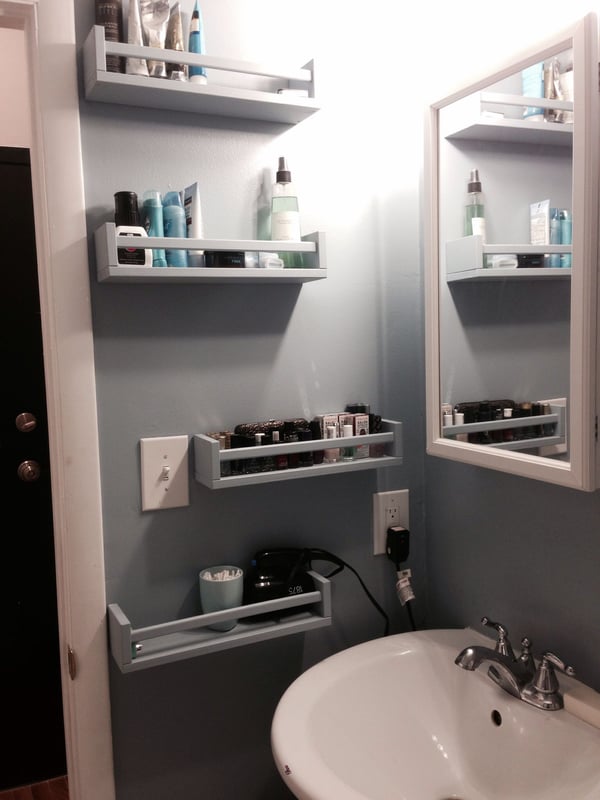 2. Spice things up
Add more storage to small bathrooms or bathrooms with pedestal sinks by hanging spice racks. While regular bathroom shelving ideas provide a great spot for a variety of toiletries, spice racks are especially useful to organize and store makeup on the wall.
Look for hanging spice racks such as the DecoBros 3 Tier Wall Mounted Spice Rack.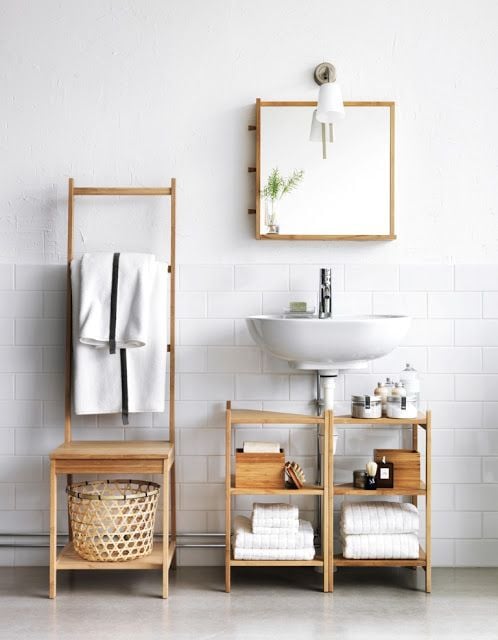 3. Purchase under sink shelving
Pedestal sink storage or storage with a wall-mounted sink without cabinets can be tricky. RAGRUND shelves from IKEA can help you solve this issue. Theses shelves are specifically designed to fit around a pedestal sink or a pipe protruding from the wall from a wall-mounted sink.
If the RAGRUND shelves don't fit your style or suit your bathroom, try a rolling organizer such as the Rolling Organizer For Pedestal Sink by Bed Bath & Beyond.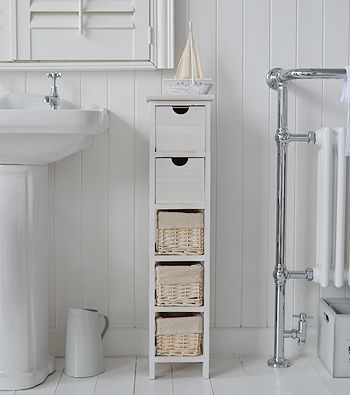 4. Pick up a narrow cabinet
If you have a tight bathroom, get a cabinet to fit your needs by choosing a narrow cabinet. While it may look like it will not store a lot, narrow cabinets can fit more than you'd initially imagine. Tuck your narrow cabinet in beside your toilet or up against a wall where you have space.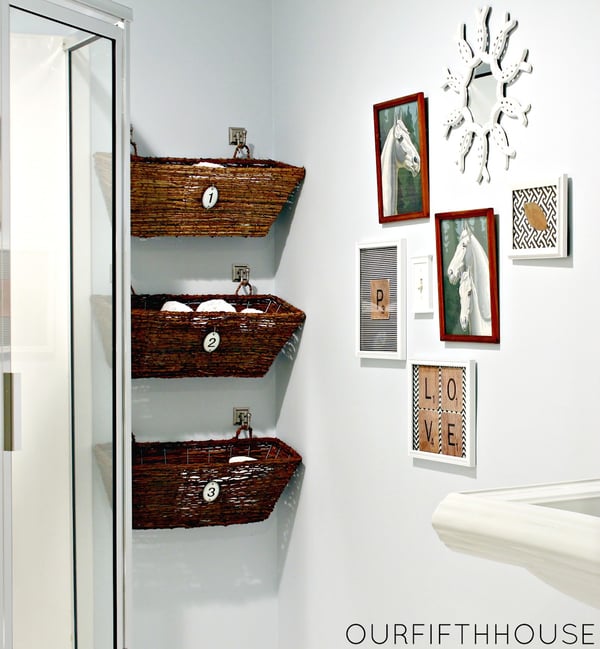 5. Add some baskets
Adding wooden or plastic bathrooms is a simple but great way for small bathrooms to have more storage. Hang your wooden or wicker basket on a wall to create more space on the floor. Another advantage of wooden baskets is that they tend to work in bathrooms of any colour.
Just be careful to avoid adding too many baskets. Too many can allow for unwanted clutter.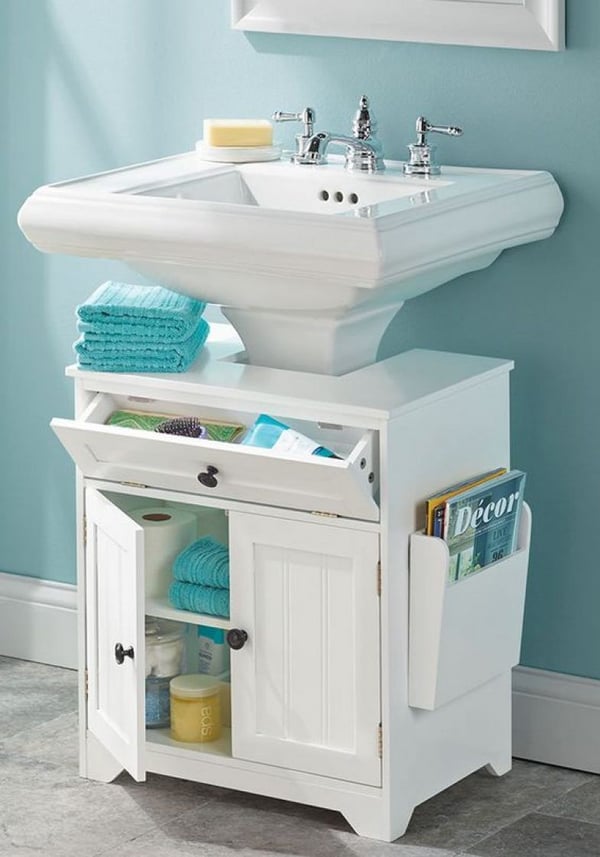 6. Include a pedestal sink cabinet
If you don't want to use under sink shelving for your pedestal sink storage, but you still want to make use of that space, go for a pedestal sink cabinet to organize and hold your toiletries and things. Simply place the cabinet under or near your pedestal sink and begin solving any and all clutter issues in your small bathroom.
7. Put up a curtain
Curtains can be used for more than just windows, and they even have their place in a bathroom. Use a curtain to create some charming storage space under your pedestal sink. To do this, first, choose a curtain that will match your bathroom colours and your bathroom theme. Don't just limit yourself to decorator fabric. A ready made shower curtain will also do the trick.
After you've chosen your material, follow the steps below:
1. Measure your sink
First, use measuring tape to measure the sink vertically and horizontally. Then, take the horizontal measurement you've found, and double it. Also, add two inches for hemming to the vertical measurement.
2. Cut the fabric
Measure and cut the fabric to meet the dimensions that you previously found for the sink.
3. Hem the bottom
Stitch the top and bottom edges of the fabric to hem it. If you're not the best sewer and your stitching isn't straight, that's alright. You can hide the hand-sewn hemmed side under the sink.
4. Create the gathering of the curtain
On the top of the curtain, you'll need to create the gathering. Bumblebee Linens recommends hand stitching stitches running along the top hem and using a long piece of thread. "Once you have stitched through the entire top of the curtain, pull the thread to create a gathering," Bumblebee Linens says. Lastly for this step, use a sewing machine to sew along the top of the gathering to keep it in place.
5. Add Velcro
Using industrial/home decorator Velcro cut to size, stick one side onto the top hem of the sink skirt. Stick the other side of the Velcro on the bottom of the sink.
6. Hang your sink curtain
Once all Velcro is in place, you can hang your sink curtain by matching the Velcro strips together.
---
What else do you need for to make your bathroom complete? Once you've nailed down some pedestal sink storage, head to a Kitchen & Bath Classics showroom for low-flow faucets and low-flow showerheads, low-flush toilets, and more kitchen and bath necessities.
If you're not sure what you need for your bathroom or kitchen yet, stop by and chat with one of our consultations for some assistance and inspiration!