Bathroom renovation projects can sometimes only focus on the functional: how can a bigger sink fit in the room? Will a walk-in shower make sense? Is it time to opt for a low-flush toilet?
There are many creative aspects to renovating the bathroom in addition to the practical pieces. During a renovation, there is tile to pick, lighting to choose, colour schemes to incorporate, and themes and decorative pieces to focus your design around. Additionally, consider the primary user(s) of the space you'll be renovating. Will this be a family bathroom, a guest bathroom or simply for the adults in the household?
One unique element that can suit either a powder room or the home's main bathroom is a seated vanity. Not only will it be a unit of storage, but the piece of furniture can also be a pretty place to get ready in the morning: There will be ample room for someone to shave, or to fix up a complex hairdo and prepare for the day.
If you're looking for a unique seated vanity for your bathroom, give one of these uncommon ideas a try: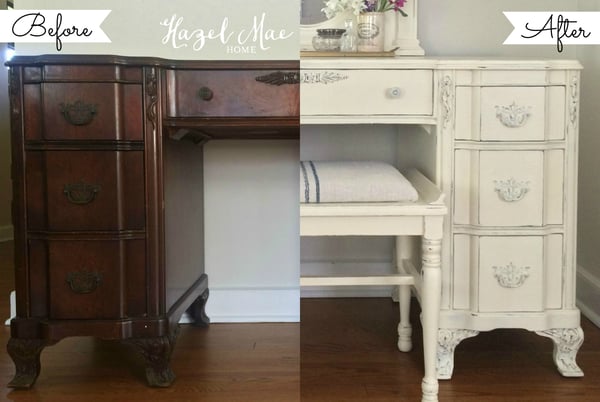 Antique desk or bureau
While an antique desk or vintage bureau is usually used for seated desk work, it can easily be adapted to be used as a seated vanity in your bathroom. You can use it for getting ready for the day or washing up before bed. A sturdy, antique bureau will add a classic look and fit well into almost any bathroom. And, with drawers on ether side of the seating area, you'll have extra storage. You can even add an overmount sink and plumbing to the bureau if you'd like.
Just like an antique bureau, a student desk provides a unique option for a seated vanity. A simple desk will give you all the counter space and drawers you need. It can also hold a sink if needed. If you add an overmount sink to your antique desk or bureau, consider adding a waterproof top to protect the wood.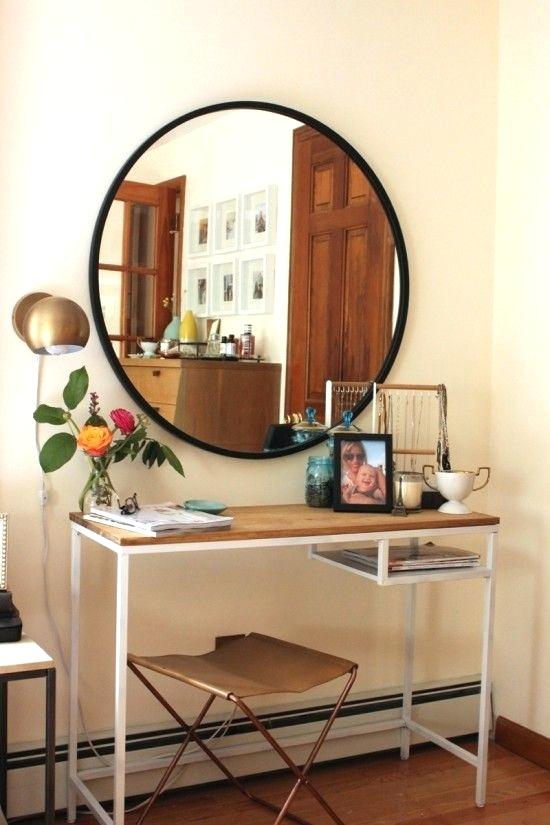 Altar or hall table
Another uncommon piece of furniture you can use as a vanity is an altar or hall table. Find one of these tables with room to push a seat or two underneath, and you've got a simple seated bathroom vanity. Most of these pieces can also have a sink placed on top or even two if long enough.
When choosing an altar, hall table, or other vintage furniture piece for your bathroom vanity, the most important factor to consider is size, Apartment Therapy suggests. Make sure the piece's dimensions will work for your room and give you enough counter space for your needs.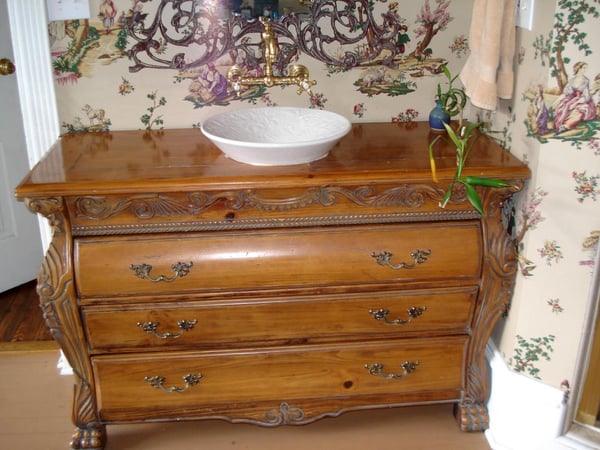 Vintage cabinets
Do you have old cabinets sitting in your basement or not in use somewhere else in your home? A blueprint cabinet, map cabinet, or art cabinet could all make for a great seated vanity in your bathroom. These different cabinets all come with stacked shallow drawers. Although the drawers are meant for filing papers and documents flat, they are a great storage space for makeup, hair products, and other bathroom necessities that you'd like on hand at your bathroom vanity.
Some cabinets you find may even be big enough or long enough to hold double sinks. Each person can use their own sink, and there is space in the middle for someone to get ready in the meantime. There usually aren't spaces open to slide seats underneath with blueprint, map or art cabinets. Instead, slide a stylish seat right up to the middle to sit and prepare yourself for the day.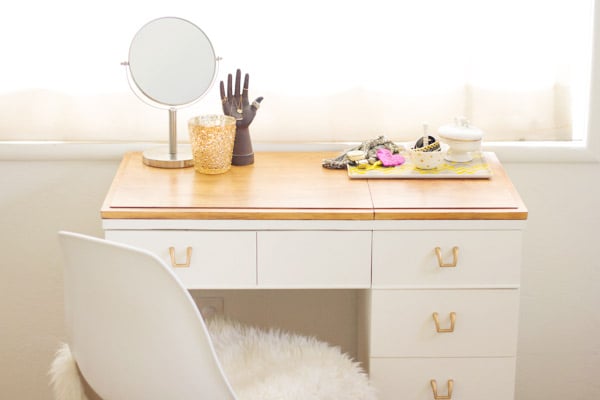 Sewing table
Sewing tables, which came about in the late 1700s, can still be very useful in today's modern homes. Though originally used for needlework before the arrival of the sewing machine, a vintage sewing table can also serve as a beautiful bathroom vanity today. The table will have a unique decorative touch with the antique sewing machine included.
Finding the right stool for the seated bathroom vanity can bring the room together. Be sure to measure the counter height to ensure the stool is not too tall. Then, decide whether the seat should blend in or pop out. Picking a seat in a bolder colour can add a spark to a more muted room, whereas keeping a consistent colour palette can maintain a uniform feel to the space. However the room is decorated, a seated bathroom vanity can add a bit of uniqueness to the bathroom space.
---
For more options on how to create a bathroom vanity with a seated option, stop by a Kitchen & Bath Classics showroom. Our expert consultants are ready to help you with ideas and assistance during your bathroom or kitchen renovation.