Your bathroom vanity is where you begin every day. It is here where you mentally review your to-do lists and your schedule while you brush your teeth and style your hair in the mornings. Your vanity is also where you end up each evening, washing off the highs and lows of the day before you go to sleep. Naturally, just any old set of drawers with a sink attached won't do. This kind of daily committed partnership requires more thought and planning than the selection process for your average piece of furniture.
Whether you are choosing a vanity for a little-used powder room or a shared en suite, here are a few important questions to consider.
Frederick York 60" Jacob Vanity in Light Wood
What does your existing space look like?
Before thinking about design or style elements, it's important to first consider the practical questions. Walk around your bathroom and get an idea of the layout. Make sure you take into account the location of the plumbing, electrical outlets, and other already existing features like mirrors or cabinets. Try to visualize the traffic flow of the room. Don't forget to factor in the direction of the door when it swings. Taking stock of all these details will help narrow down which bathroom vanity is right for you and your space.
What is the primary purpose of this bathroom?
Your vanity needs will vary based on the different people you expect to be using the room and what they'll be using it for. Think about comfort, storage, and style. For example, a powder room will be served well by a simple pedestal sink, while a double sink is better for a spacious en suite. A guest bathroom only requires enough drawer space for the bare necessities, but more extensive storage might be required for makeup and hair product junkies. Kids' vanities have their own demands as well— perhaps a lower counter height, or more durable materials for the counter top.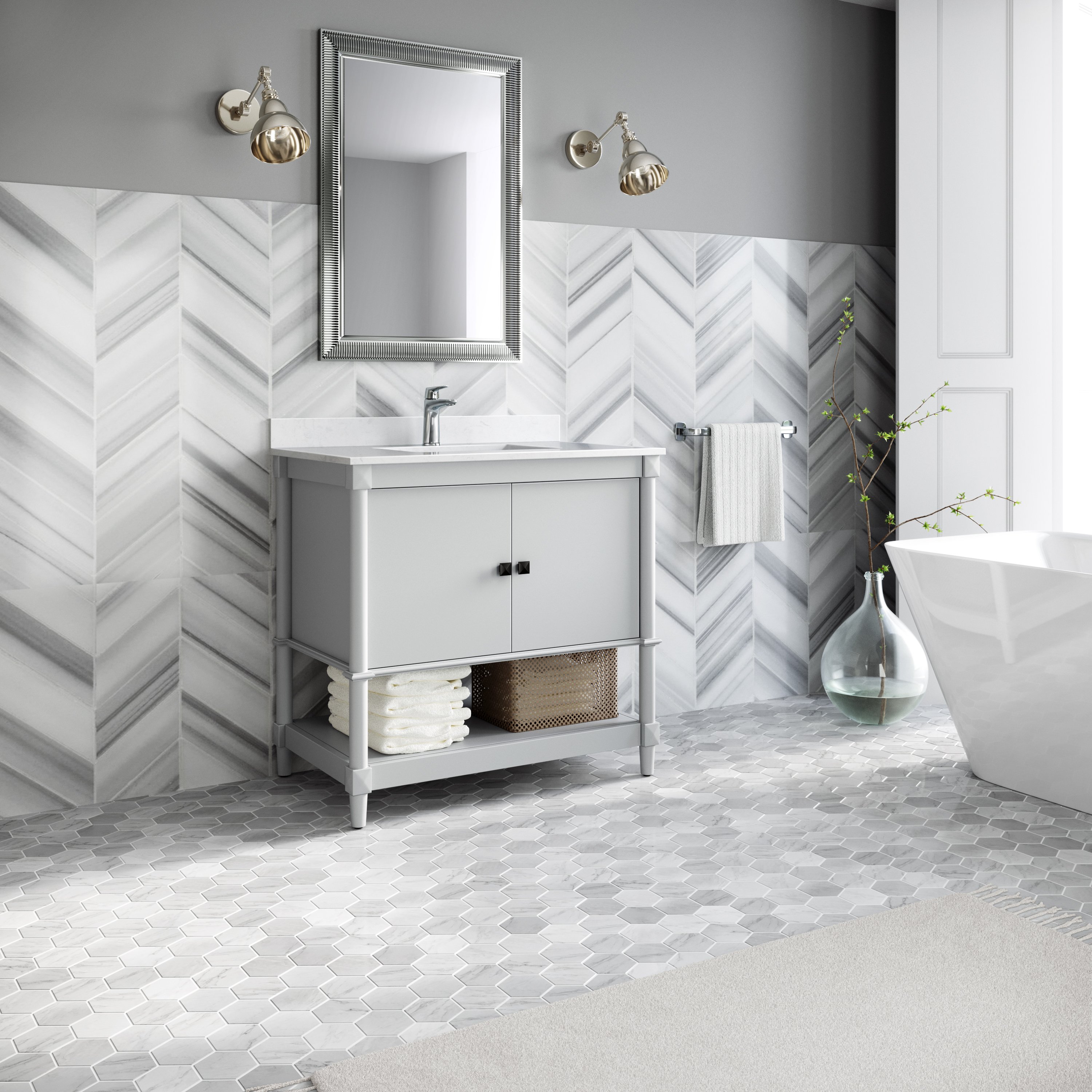 Frederick York 36″ Tiana Vanity Dove Grey Matte Black
What are your ideal dimensions?
Now that you've conducted an informal survey of the room, it's time to whip out your measuring tape and collect some hard numbers. You'll want to have a definite plan for the height, width and depth of your vanity.
Height
30 to 32 inches is considered standard when it comes to a vanity's height, although the "comfort" height of 36 inches is an increasingly popular choice. The location and placement of any mirrors or medicine cabinets will also influence the height you decide on.
Width
The question of width will spark the all-important debate of whether your vanity should be home to one sink or two. Double sinks are ideal for any bathroom that is being shared between two or more people, as they provide more personal space and flexibility, while a single sink is the best choice for smaller bathrooms. Read more about the pros and cons of a double sink vanity here.
Depth
When it comes to depth, the standard measurement is 21 inches, but this too can be modified depending on your needs and preferences. You can find options as shallow as 12 inches for particularly narrow spaces.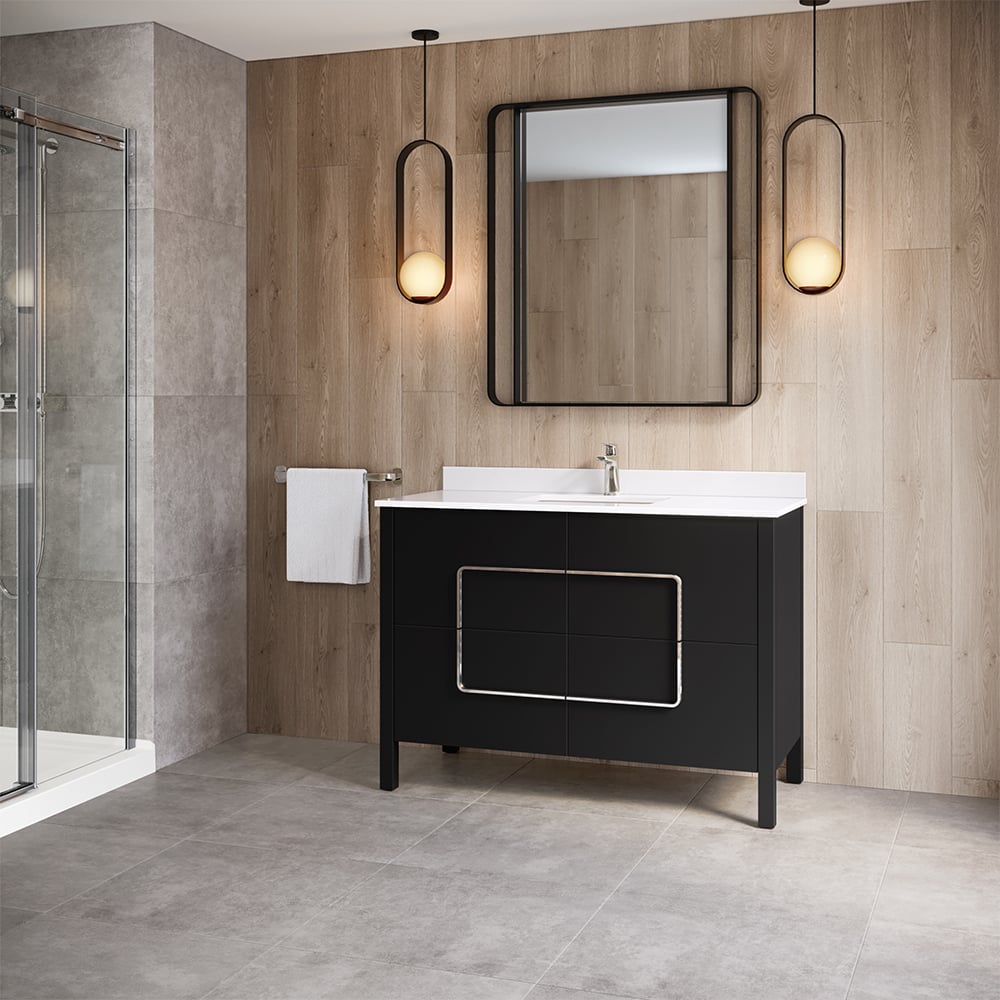 Frederick York 48″ Drexel Vanity Black Brushed Nickel
Which vanity style best suits your home?
The practicalities have been dealt with and the calculations are done. The decisions that remain are more a matter of creativity and individual taste. There are three broad categories when you're talking about vanity style: Freestanding, floating or corner.
"Freestanding" is the most common and traditional. It's available in a wide variety of styles, so if you're looking to create cohesion with the rest of your home, this is an excellent choice. A "floating" vanity, on the other hand, is decidedly modern. This style opens up extra room underneath the vanity & creates the illusion of more space. A corner vanity is exactly what it sounds like, a vanity which fits snugly into a corner and is perfect for smaller bathrooms.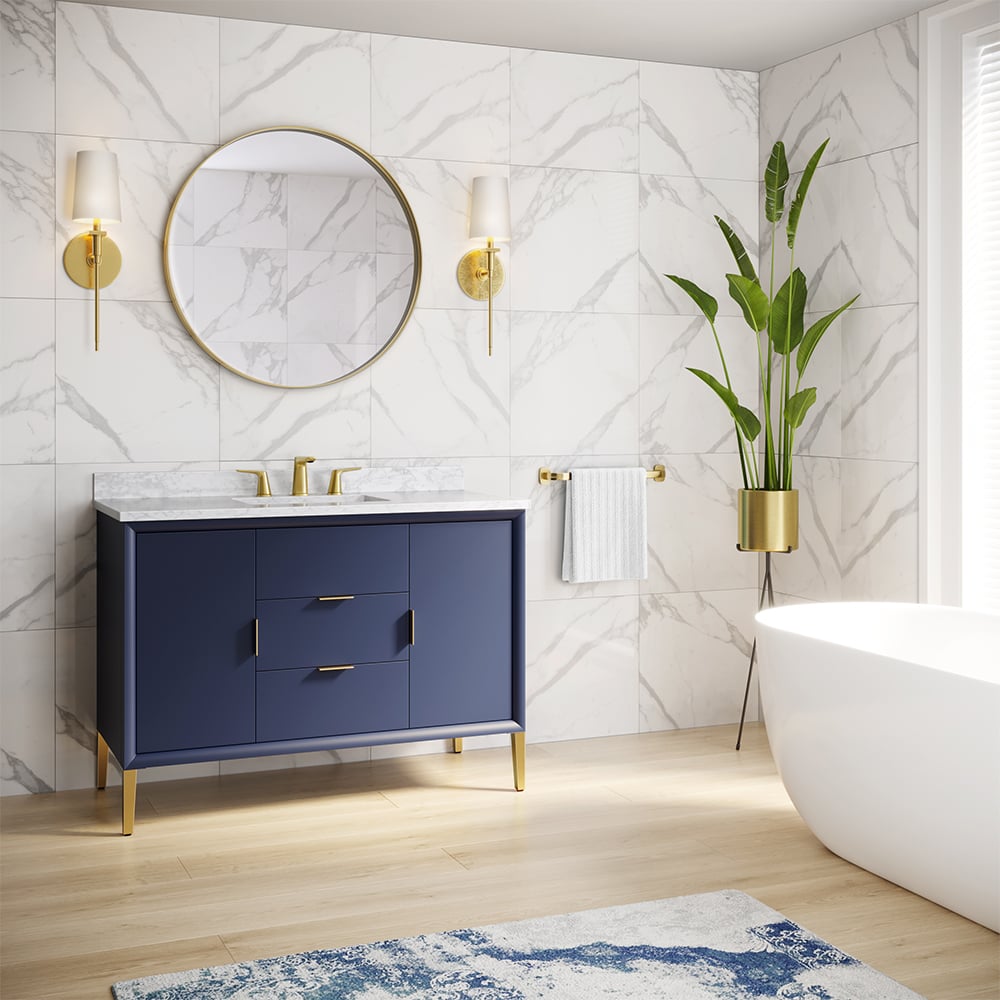 Frederick York 48″ Arya Vanity Navy Gold
What design trends should you incorporate?
There are infinite ways to add interest and personality to your vanity. Your choice of cabinetry, countertop, backsplash and hardware will all combine for a unique reflection of your personal style. You might embrace minimalism and concentrate on sleek lines and neutral colours. Or give your vanity a bit of hotel flair with open shelving to display your favourite products and artfully folded towels. Another popular trend this year is choosing metallic faucets and hardware on reclaimed wood cabinets to create an unexpected blend of traditional and modern.
Your vanity is most likely the visual centerpiece of your bathroom, just as it is surely central to many of your daily routines. Once you've covered your bases and asked the right questions, your perfect bathroom vanity can be whatever you imagine up.
---
For help choosing the perfect vanity to complete your bathroom, book a consultation with one of our experts at Kitchen and Bath Classics.