Whether you've just moved into a new house, or you've decided it's finally time for a bathroom makeover, one of your first priorities when approaching bathroom design should be your storage. Soaps, shampoos, towels, toothbrushes, toilet paper and more! All are in need of their own designated location in your bathroom.
This is where bathroom shelves come in handy. While you may think there is only one way to approach bathroom shelving—simple, boring shelves lining the wall—there are plenty of options out there to fit both your storage and design needs. Keep reading for all you need to know about the best of bathroom shelving.
1. Over the toilet storage shelves
Having a shelf over the toilet or over toilet shelves is a great way to make the most of the space you have in your bathroom. For a clean and simple approach, hang a few crisp white shelves that are inset above the toilet for sufficient storage that adds height and depth.
Another approach to over the toilet storage is to add rustic wooden bathroom shelves. According to Home BNC, old-fashioned barn wood can bring rustic character to your bathroom and over the toilet storage. Secure the rustic shelving with thick rope to complete the look.
To use wood another way for bathroom shelves, try installing DIY pipe and wood shelves for a more industrial yet rustic look. Simply attach industrial pipe sturdily to the wall, and place rustic wooden planks on top. Now, you have somewhere to stack your towels and store your other bathroom products.
Lastly, glass shelves are a great look for an airy bathroom vibe and are another sturdy option for over-the-toilet storage.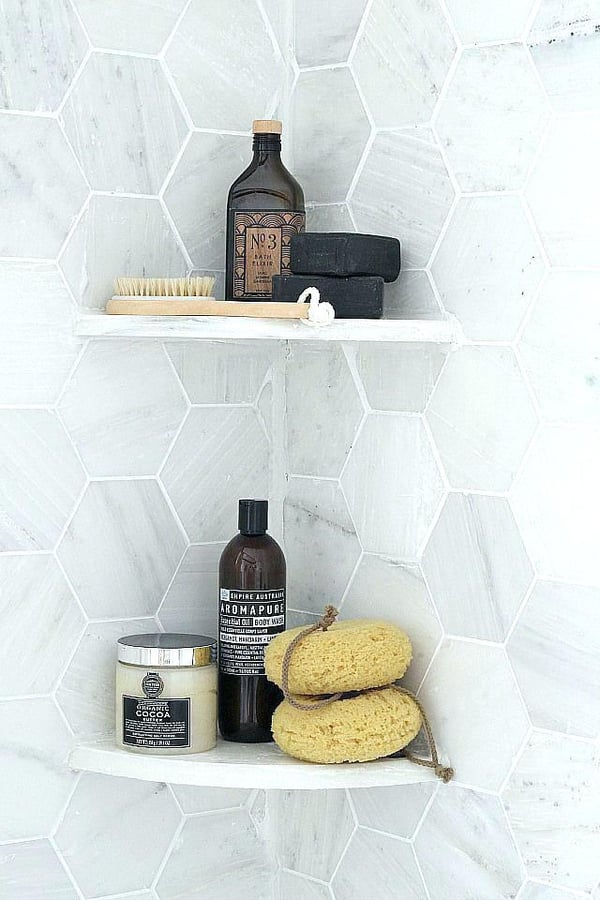 2. Shower shelves
Shower shelves and shower storage can come in many shapes and sizes. One way to add more storage to your shower with multiple shower shelves is to hang a variety of shower caddies or shower organizers with rows of shelves on each.
You might be thinking—how can I hang multiple shower caddies when I don't have multiple showerheads? Here's the trick: First, find an adjustable shower rod. Place it at the top of your shower, above the tile and secure it between the walls. Then, hook as many shower caddies as you need onto the rod!
Another shower shelving trick is to make/include multiple mini movable bathroom shelves for your shower. To do this, take mini wire or metal storage units and attach suctions onto the backs. Then, use the suctions to stick the units to the shower tiles on the wall. Since they're not installed permanently, you can move them around the shower as you please.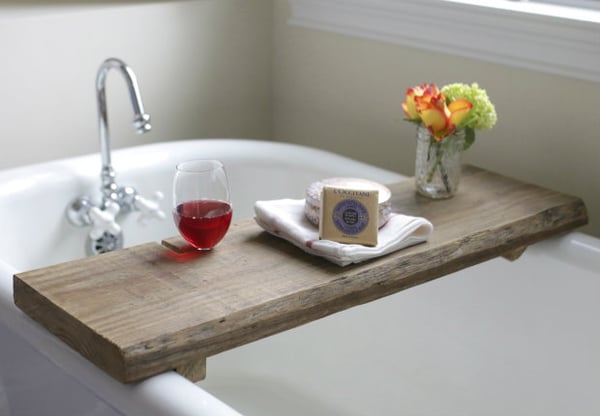 3. Bath rack
When you think of bathroom shelves, bath racks or bathtub trays probably aren't the first thing that come to mind. However, these shelves that sit over tubs can be a great space for bathroom storage.
Of course, bathtub trays are also very handy when you're actually taking a bath, especially if you like to bring a book or drink along in the tub with you. These trays allow you to lay back comfortably without having to worry about a book getting wet or where you'll set your drink.
To use bath racks as storage, simply place them in the tub to hold waterproof items you may use in the tub or shower. This method of bathroom storage is especially helpful if you're short on space or have a small bathroom layout.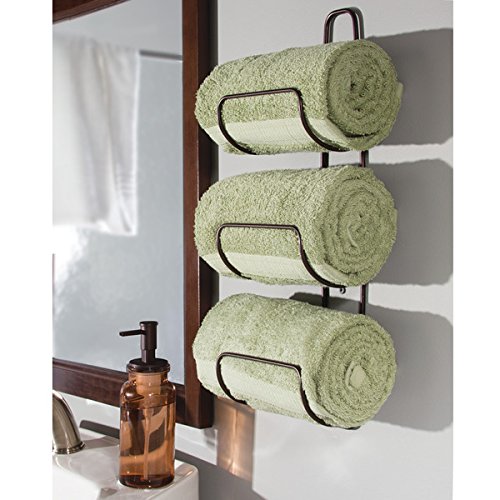 4. Bathroom towel storage
Wall shelf ideas don't have to be limited to long, flat surface shelves as storage. One unique way to store bathroom towels is to hang baskets on the wall to layer your bathroom towels in. Baskets aren't only meant for floors. Wire baskets can make excellent floating shelves to store towels and toiletries such as toilet paper.
You can also create a wall of baskets by hanging two parallel towel bars, threading some ribbon through your baskets (wire, wicker, or whatever material you choose), and tying them onto the bars secured to the wall.
Using baskets for bathroom storage is a great way to clear out bathroom clutter and keep your towels neat and tidy as well. All you need for this simple bathroom towel storage is a few screws along with baskets and some anchors. Don't forget to use drywall anchors and washers to anchor them in place. (A drill could be helpful for this process too!)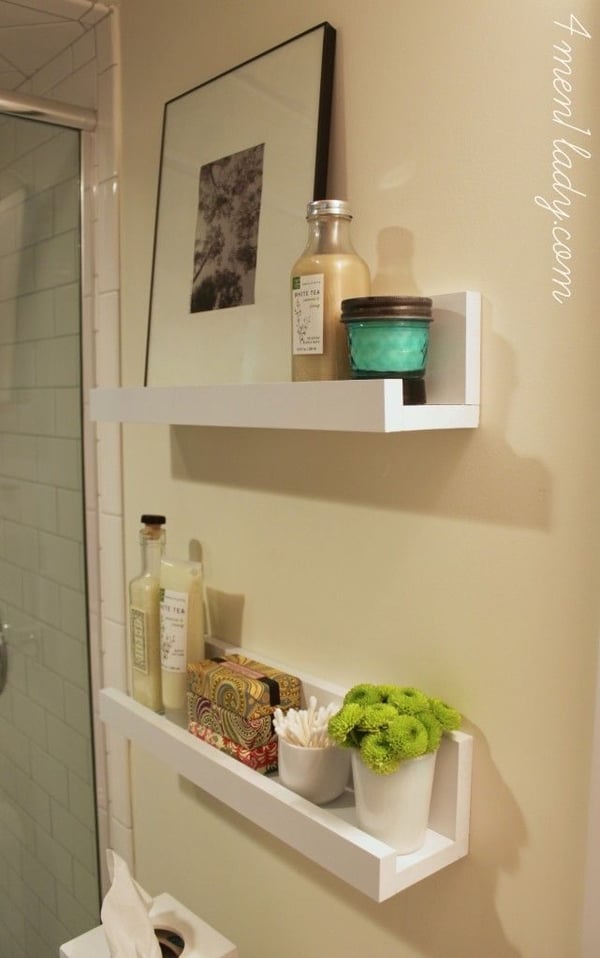 5. Picture ledge
Although the name may suggest otherwise, a picture ledge can hold much more than just pictures, especially in your bathroom. Adding a picture ledge below your bathroom mirror and above your sink is a great bathroom shelving trick to hold your makeup, perfumes, or just toothbrush and soaps.
---
Still looking for more bathroom storage ideas and/or products? Head to your nearby Kitchen & Bath Classics showroom to chat with one of our consultants. They have all the insider knowledge on how to upgrade your bathroom storage and revitalize your old bathroom. And, for your other bathroom needs, check out our eco-friendly options for faucets, shower heads, and toilets!