Why get down and dirty in bathroom cleaning more often than you have to? Bathrooms seem to have a way to get cluttered and dirty days or even hours after you've put in the work to get it clean. That includes the bathroom sink.
It doesn't matter what it looks like—pedestal sinks, a porcelain sink, steel sinks, etc.—a bathroom sink can quickly become a centre for gook and grime. To keep your bathroom sink cleaner longer, follow our six tips below.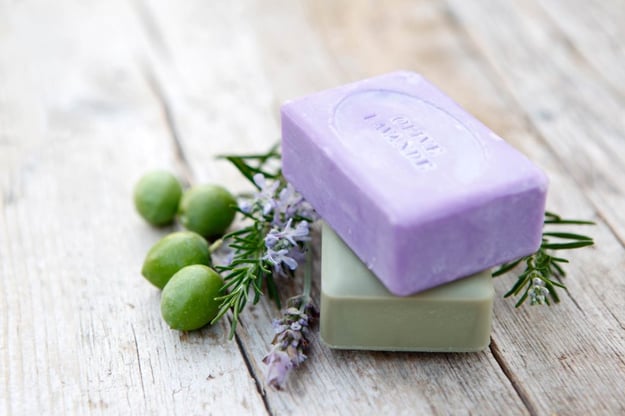 Ditch the bar soap
Making small changes for your daily routines can help you keep your bathroom sink regularly clean. For example, skip the bar of soap at the sink. Instead, swap your bar soap for a liquid soap with a pump. Or, you may even want to purchase a hands-free soap dispenser in place of your old bar of soap.
Ditching bar soap will allow you to toss the grimy soap dish it sits in, which will also help your bathroom sink and countertop area stay cleaner.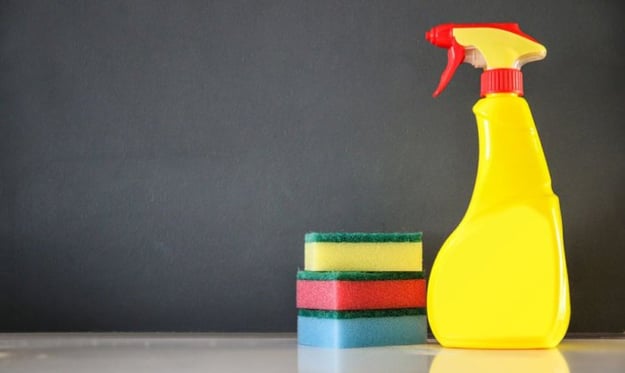 Use long-lasting bathroom cleaners
When cleaning your bathroom sink and other areas of your bathroom, reach for cleaners that are long-lasting. The sad truth is, while there are endless amounts of products on the market claiming to kill germs, once you spray or wipe an area, it can become contaminated with germs again in seconds.
Make sure to check the labels of household and bathroom cleaning products before making purchases. According to Good Housekeeping, formulas in cleaners such as Mr. Clean Bath Cleaner with Shine Shield can keep sinks and tubs resistant to stains for up to seven days.
For the best "powerhouse all-purpose" bathroom cleaner, Real Simple suggests using Lysol Bathroom Cleaner—a disinfectant that breaks through limescale and soap scum and makes quick work of ordinary challenges on all bathroom surfaces, says Real Simple.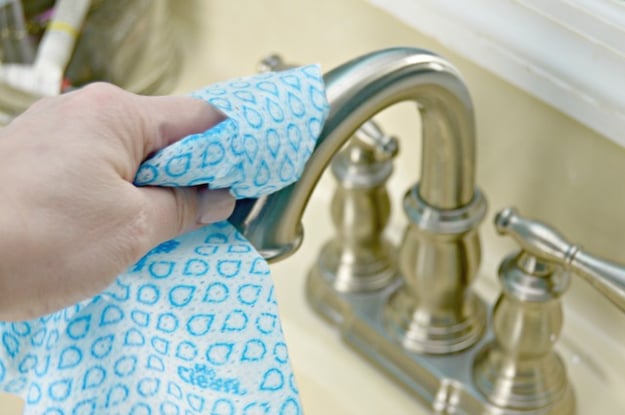 Store cleaning wipes nearby
If you stash a canister of disinfecting wipes or cleaning wipes nearby, you can wipe off messes before they have a chance to dry or stain. Keep wipes in easy-to-grab places such as under the sink. Then, you can quickly clean up messes such as toothpaste splatters and watermarks.
Real Simple suggests using Blue Magic Glass Wipes for bathroom fixtures, glass, and mirrors. These cleaning wipes can leave bathroom sink faucets and bathroom mirrors shining without leaving lint or streaks.
For the best cleaning wipes with a gentle abrasive effect, Real Simple recommends checking out Lysol Dual Action Wipes. Use these wipes for your bathroom sink and countertop. One side has a traditional texture of a cleaning wipe, while the other has rough fibres that are more abrasive.
For awesome spot-cleaning, Good Housekeeping recommends the tap-and-clean products from Lysol or Clorox.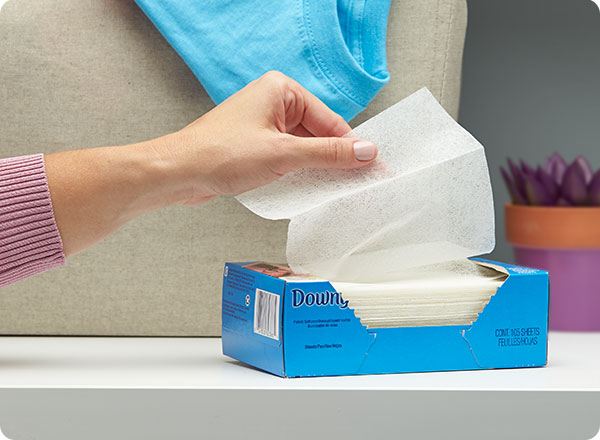 Stash dryer sheets under the sink
In addition to bathroom cleaning wipes, also keep dryer sheets nearby in or around your bathroom. Dryer sheets are great for quickly and easily grabbing hair and dust bunnies from around your bathroom sink.
Instead of needing to breakout a vacuum cleaner or major cleaners, daily dusting with dryer sheets is one way to keep your bathroom sink clean longer.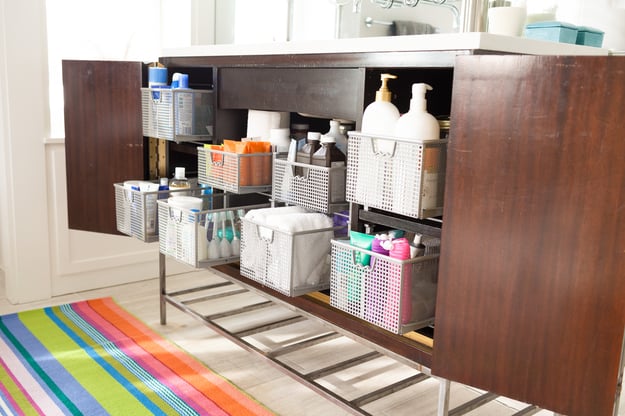 Organize your cabinets and bathroom counter
This step is especially important if you have a small sink and bathroom countertop space. Find or create dedicated spots for cosmetics, hair tools, and other toiletries you keep in your bathroom.
Whether it's in your medicine cabinet, below vanity sinks, or even in a close by hallway closet, stash what usually clutters up your bathroom out of site but as nearby as possible.
A clutter-free bathroom counter not only instantly transforms your washroom into a cleaner looking and feeling space, but when you have fewer items lying around to worry about, it's easier to keep your bathroom sink clean for a longer amount of time as well.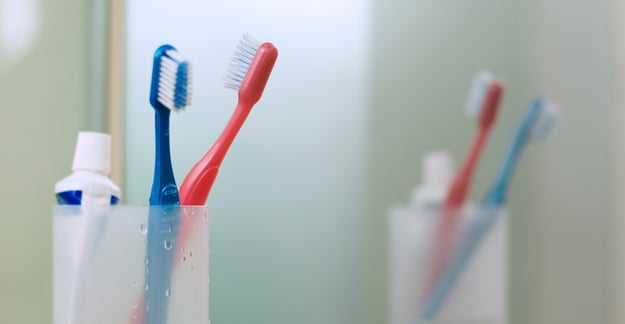 Brush your teeth face down
Lastly, in order to start keeping your bathroom sink cleaner longer, begin to change the way you brush your teeth. Brushing your teeth at least twice a day at your sink can cause quick, major messes. This is especially true if you brush your teeth facing the mirror.
As you brush your teeth facing the mirror, tons of little toothpaste bubbles go flying onto the bathroom mirror, the bathroom countertop, the bathroom faucet, and the sink.
Instead, start brushing your teeth with your head bowed close to the sink. This way, most of the bubbles end up going down the drain to be rinsed away as they should be.
---
Old or ugly bathrooms are a bummer even when they're at their cleanest. Usually, it's easier and more inspiring to keep a bathroom clean when it's a room you're proud of in the first place. Stop by your local Kitchen & Bath Classics showroom to chat with our consultants and make your dream bathroom a reality.