When updating an old kitchen or designing a new one, there are a lot of considerations. Yes, you'll need to choose new appliances and you'll have to pick out cabinets and countertops. While your choices of appliances and counters are important, they're not the only defining aspect of your kitchen. Small pieces, such as your cabinet hardware, are just as important to the overall design of your kitchen.
Need inspiration for your kitchen cabinet handles and drawer pulls? Check out our seven ideas for your new cabinet hardware.
1. Brushed brass
Brushed brass and gold drawer pulls are a go-to choice for drawer knobs and cabinet handles in many kitchens. Brass and gold hardware provide a modern yet traditional look. They're also easy to stick with over time, as they can adapt to a variety of styles and colours. So, if you decide to change the colour palette or tone of your kitchen, you likely can keep the same hardware.
If a traditional Shaker style kitchen is what you're going for, simple, understated brushed metal cabinet hardware would be a great complement. Or, opt for a popular option of long, lean drawer pulls.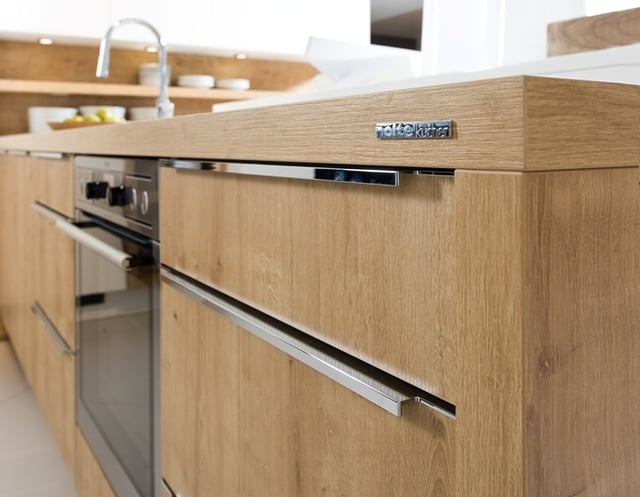 2. Nickel or steel
Traditional nickel or stainless steel are simple and clean options for cabinet hardware. From vintage to a modern kitchen, Shaker cabinets paired with nickel or steel cabinet knobs and drawer pulls can work to your advantage and create a classic look.
If you opt for brushed-nickel contemporary kitchen hardware, think about colouring the rest of your kitchen similarly. Brushed-nickel hardware blends nicely with grey coloured cabinets and countertops. Add stainless steel appliances and you'll have a beautiful and unified look in your kitchen.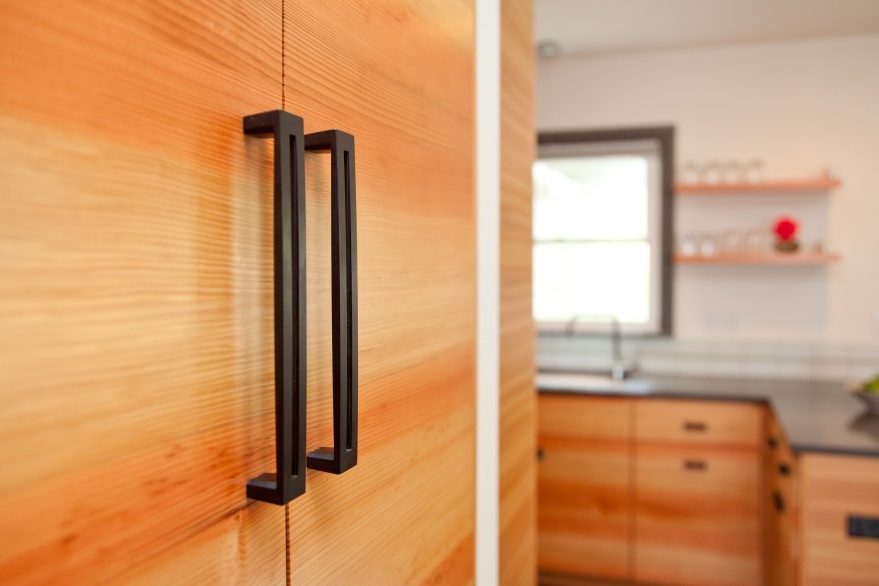 3. Matte black
Black and white are as classic as it gets with colours. Why not use this classic combo for your kitchen cabinet hardware? Matte black drawer pulls and cabinet handles offers a nostalgic retro schoolhouse style when paired with industrial lighting and shelving.
Try using matte black cabinet hardware as a contrast in an all white kitchen design, or, even add black to more colourful kitchens. Add black hardware to blue-washed cupboards to create an eclectic, sophisticated combination.
4. Copper
If you like the idea of classic black in your kitchen, but don't want to use it for hardware, paint your kitchen cupboards all black and add copper knobs. Modern copper T-pull handles and drawer pulls can step up any modern kitchen appearance.
To make your own DIY copper pulls, use decorative copper strips and copper hanger strap cut to length, The Gathered Home recommends.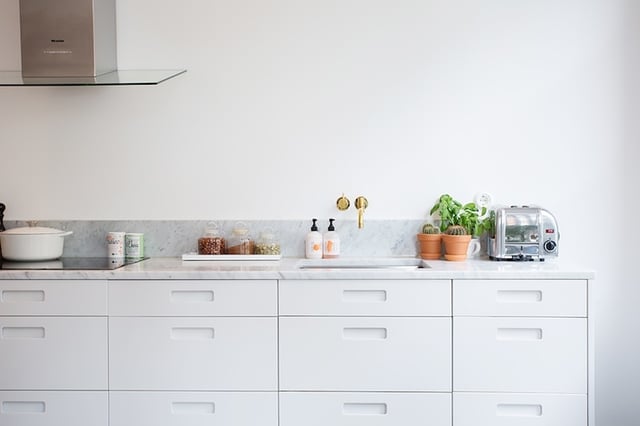 5. Integrated handles
For those with a minimalist kitchen, try using mostly invisible integrated handles. Cabinets with integrated handles as their hardware have an inwardly bevelled edge for your fingers to wrap around on one side, says Architectural Digest.
According to Architectural Digest, "the space created by this design will appear as a clean, recessed gap between each cabinet or drawer—which you can accent with paint or a metallic band, if you like—along the top edge of any below-counter storage, and along the side or bottom edge of upper cabinets."
If you choose to use integrated handles for your kitchen cabinetry, consider cabinets of blackened wire-brushed oak and black countertops along to make an even stronger statement with your already bold cabinet hardware.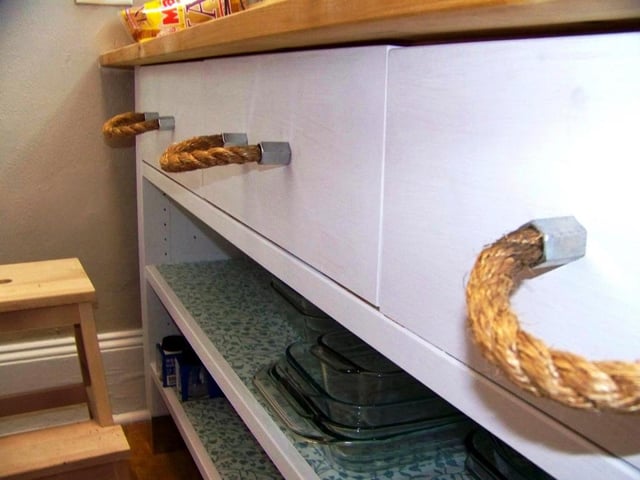 6. Rope
If you're upgrading your kitchen on a budget, consider a unique and inexpensive option, such as rope. Sometimes also seen on dressers, nautical-themed rope drawer pulls and door handles for kitchen cabinetry have become a recent trend. Using rope for your cabinetry hardware makes for a fun and cheap DIY project that will add tons of texture to your kitchen.
When creating your own cabinet hardware with rope, Bob Vila recommends keeping things simple and thrifty by using knotted 3/8-inch twisted manila rope.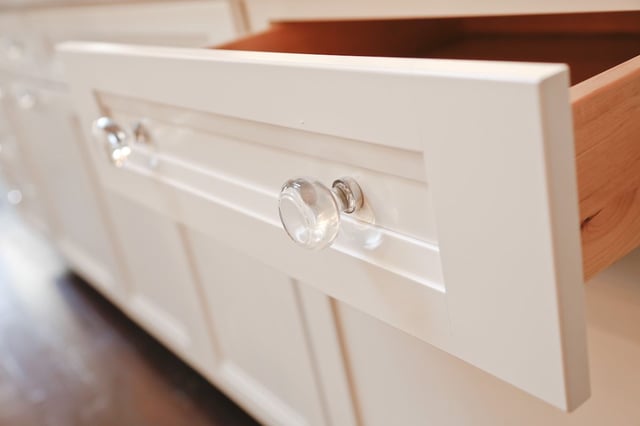 7. Glass
Relatively inexpensive to purchase yet a flashy touch to any kitchen cabinetry, glass is a unique option for cabinet hardware. Usually, glass knobs are fairly small. Glass knobs are a good choice for simple kitchens that need a touch of bling or sparkle.
According to Houzz, glass hardware works well with styles such as vintage, eclectic, contemporary, traditional, and country kitchens.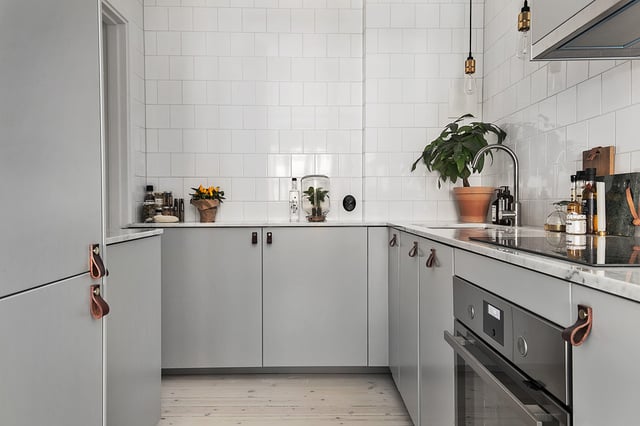 8. Get creative!
Think outside the box. Cabinet hardware can be anything you want it. Think of your cabinets as a blank canvas! There are plenty of creative approaches to cabinet handles and drawer pulls. As HGTV points out, "exploring other options may allow you to express more of you own design aesthetic in the kitchen."
Try using exciting new materials for kitchen cabinets, such as creating handles made from antique buttons, leather, or even crystal. Designing your own cabinet hardware may take more time and cost more, but it will also make your kitchen look more unique.
---
Are you upgrading your kitchen? Once you've picked out the perfect kitchen cabinets and the right knobs, handles, and drawer pulls for your kitchen cabinet hardware, head to Kitchen & Bath Classics showroom to complete your look with a new low-flow faucet. Or, chat with our expert consultants to get more inspiration.