There are plenty of ways to give your kitchen a facelift without taking on a full renovation. Some people choose to stick to updating faucets or cabinet hardware. Others opt to pull up their floors, take out their cabinets, and go all out.
If you're ready to take on a full kitchen reno, you're likely looking for advice on choosing kitchen cabinets. Luckily for you, we have advice to spare! In this blog, we'll go through the key pieces you'll need to consider when picking out new cabinets.
Cabinet Materials
There are many options available when it comes to kitchen cabinets. From solid wood to plywood and even Thermofoil, the possibilities are endless.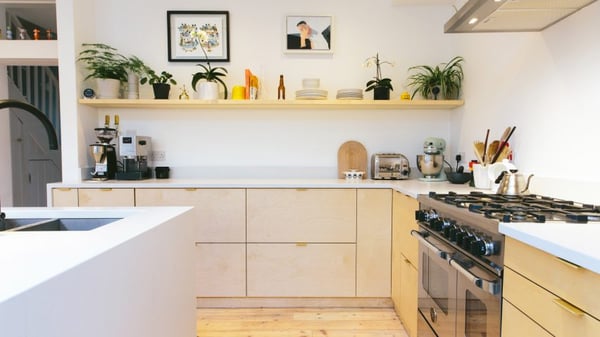 Plywood
If you're looking for a durable kitchen cabinet material, plywood is the way to go. Plywood is a series of wood sheets glued together with veneer, making it stronger than particle board or a thin sheet of wood. It is quite sturdy, and the veneer keeps moisture at bay.
One drawback of plywood is that it is more expensive than particle board. However, it is worth the investment if you aren't planning on renovating again soon.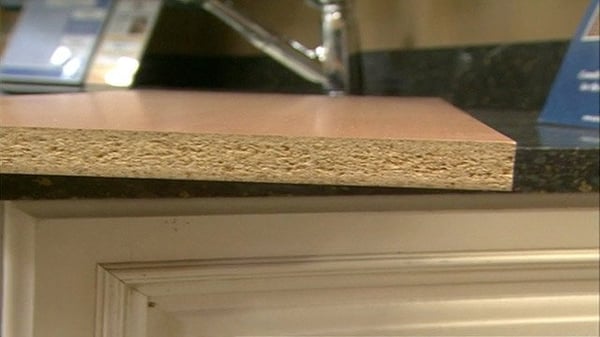 Particle Board
Since particle board is made up of wood particles, and not sheets, it is less expensive than plywood or solid wood cabinets. Particle board is an affordable and relatively durable option for kitchen cabinets.
Given its makeup, particle board is not an ideal home for screws or nails. Nails and screws can come loose over time in particle board, and glue can lose its hold on the surface. Particle board is great as a low-cost cabinet material, or as a temporary addition to your kitchen.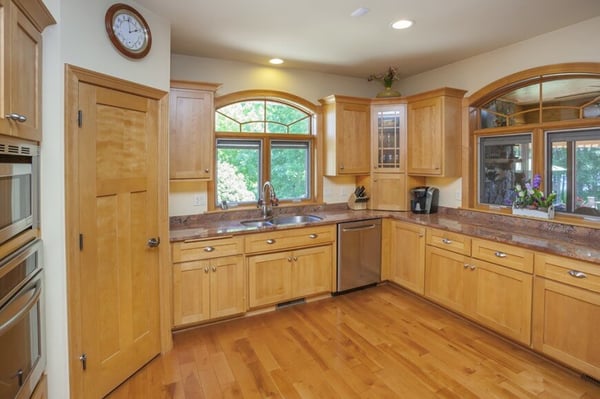 Solid Wood
Are you looking for a long lasting and beautiful cabinet material? Solid wood is right up your alley. Cabinets made from solid wood will stand the test of time, and will look great as long as you are in your home. One major benefit of solid wood is the fact that you can sand it down and not run into veneer or wood chips.
If you're renovating your kitchen before selling your home, installing solid wood cabinets is a great way to get a return on your investment. Potential homeowners look for high-end finishes, and solid wood cabinets are a must-have for many.
You can also customize solid wood cabinets to any design you would like. If you prefer a shaker style cabinet or a vintage French country cabinet, nothing is out of reach. Most custom cabinetry involved solid wood cabinets.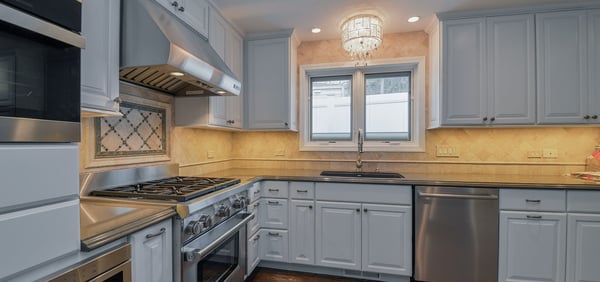 MDF
If you're looking for classic kitchen cabinets, but don't mind missing out on a wood grain, consider MDF cabinets. MDF, or Medium Density Fibreboard, is made of recycled materials, and performs better than wood in varying temperatures.
MDF is essentially a stronger version of particle board, as its particles are much smaller. Its smooth surface makes it the perfect surface for paint, though experts recommend starting with an oil-based primer.
But this means that MDF has some of the same drawbacks as particle board. Unless you protect it well, it will soak up moisture like a sponge.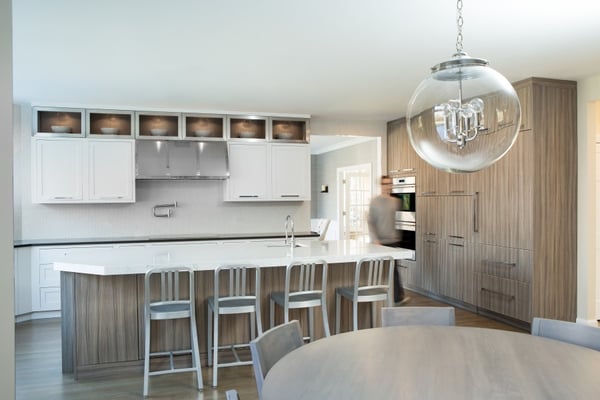 Thermofoil
Based on its name, you may assume that Thermofoil has a metal filling or coating. That's a common misconception. Thermofoil actually has a core of MDF, and a vacuum-applied layer of vinyl.
Thermofoil cabinets are quite easy to clean, given their vinyl surface. Adding a vinyl coating to the MDF also protects it from its biggest enemy: moisture.
There are a couple of drawbacks to Thermofoil cabinets, though. For one, they are vulnerable to chips, especially around the corners. You may also have issues with the vinyl peeling away from the MDF, which can expose its core to moisture.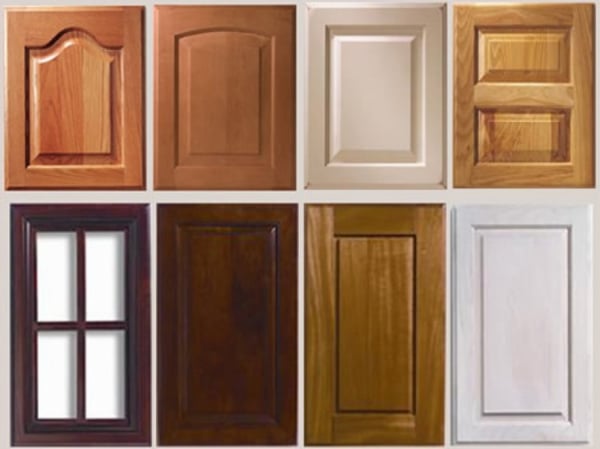 Style of Cupboards
Given the amount of room your kitchen cabinets take up, it's important to get the design right. You should consider the design of your cabinets in the context of your kitchen and home. This is because you can often see them from different rooms in your home, and even from the front door.
When you're choosing kitchen cabinets, think about the image you want them to portray. If you want to show off your dishware, glass cabinets may be the right choice. But if you want to use them to hide things away, solid cabinets are probably better.
For a timeless look, you can't go wrong with shaker-style cabinets. These are simple, often made from MDF, and can go with any countertop material.
If you want to add some functionality to the space below your counters, add in some gadgets! Consider adding a slide-out cutting board for extra space. Or maybe you're more interested in sliding garbage and recycling bins. This option will give you deeper trash bins, and you won't need to transport trash as far in most cases.
Looking for more cabinet styles? Check out our blog post that will help you make a decision!

Cabinet Hardware
Now that you've chosen the material and style of your new cabinets, it's time to tackle the hardware. The material and style you choose for your cabinet hardware can make or break the overall look of your kitchen.
Sleek, brushed metal handles are more modern than curved handles. Although, the latter can be a focal point of an otherwise simple farmhouse style kitchen.
If your family members are a bit clumsy and bump into your current handle, consider smaller ones. These will also be easier to clean, and are available in many styles.
It can be difficult to choose the perfect hardware for your cabinets. Read this blog post to find unique kitchen cabinet hardware ideas for your home.
---
Looking for expert advice before choosing kitchen cabinets and fixtures for your home? Head into your local Kitchen & Bath Classics showroom to work with one of our expert consultants. Our team will be happy to help you make decisions related to your kitchen design.