Kitchen taps do a lot more than simply transport flowing water. Kitchen faucets play a key role in influencing both the efficiency and the aesthetic tone of your kitchen. The wrong kitchen faucet can waste water and make dishwashing a nightmare, all while throwing off the look of your room.
Luckily, rectifying this problem doesn't need to be difficult. Installing a new faucet is an easy and economical way to improve your home. If you are looking for a kitchen update, consider one of these five styles of kitchen sink faucets:
1. Water efficient faucet
Pictured: Mirabelle kitchen faucet, 1.8 GPM (low-flow)
According to McGill University, the average Canadian uses approximately 329 litres of water every day at home. To stop wasting water around your house, begin by switching your kitchen faucet. Installing water efficient fixtures is one way you can help to reduce this high usage in your own house and begin to go green.
Water efficient kitchen faucets typically reduce the maximum flow rate, lowering the amount of water wasted. Water efficient faucets have many benefits, including cost savings. When you use less water, you'll pay less on your monthly water bills. A water efficient faucet will also help you reduce your carbon footprint and help the environment.
When shopping for a water efficient kitchen faucet, keep an eye out for the WaterSense label. The WaterSense label means the faucet meets EPA criteria. According to the EPA, all faucets with the label have completed an independent certification process to ensure they meet EPA criteria.
"Faucets and faucet accessories—products that can be attached easily to existing faucets to save water—that obtain the WaterSense label have demonstrated both water efficiency and the ability to provide ample flow," the EPA explains.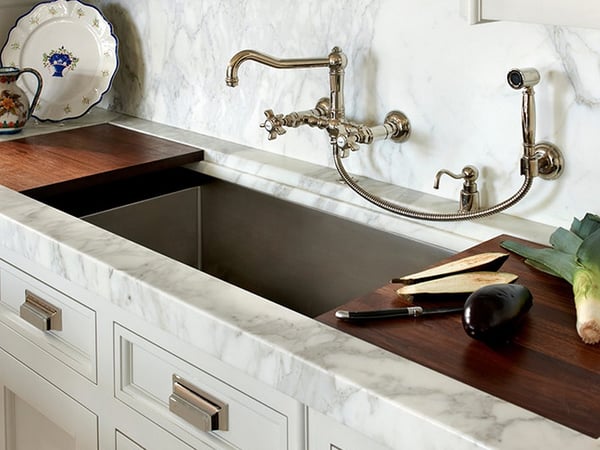 2. Wall mount faucet
Though the vast number of faucets are made to be mounted on the counter behind the sink, that is not your only option. If you are looking for a chic way to make clean up around the sink simpler, try a wall mount option instead. This option is particularly popular paired with large, single basin farmhouse sinks to create a rustic look.
John Lum Architecture, Inc. told Houzz that wall-mounted faucets are the superior choice to deck-mounted faucet options. "Gravity is working for you, carrying water and soap residue away from the faucet instead of having it all collect at the base," John Lum Architecture, Inc. says. "Wall-mounted faucets also keep the counter clear, making it easier to wipe it down."
Apartment Therapy listed the 12 best wall mounted faucets for a stylish remodel, which included the KOHLER wall mount faucet in matte black, Chrome Vessel Faucet, and Elements of Design Double Handle Faucet.
3. Single-handle faucet
Pictured: Delta single-handle kitchen faucet
Sometimes when you are trying to work in the kitchen, your hands are pretty full. Whether you are washing a large pot or trying to rinse some spinach, it can be difficult to manage two handles when turning on and off the faucet. If you find yourself in this situation often, a single-handle faucet could be a smart option for your kitchen. These models allow you to control both the temperature and flow of the water with a single lever. How simple is that?
Single-handle faucets also offer a sleek, modern look to your sink. At your local Kitchen & Bath Classics showroom, you can find a variety of options by Baril that might be the perfect choice for your kitchen.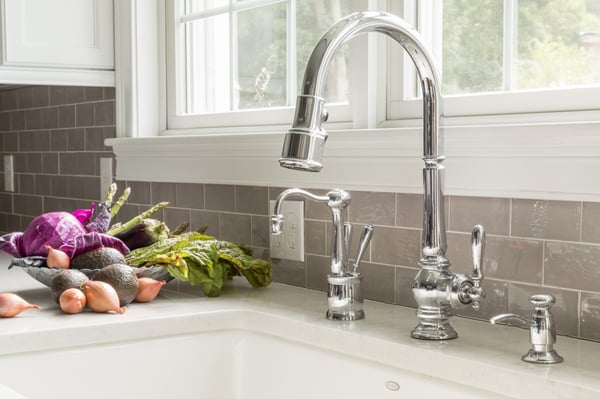 4. Faucet and soap dispenser duo
If you want to simplify your countertop, consider opting for a faucet with a matching soap dispenser. With both pieces mounted behind your sink, you will never again have to wonder where the soap went when you need it.
5. Automatic smart faucet
Pictured: Brizo kitchen faucet (SmartTouch®)
These days, it seems that everything has gone hands-free. Modern technology has made its way into the kitchen, and kitchen faucets are no exception. With the spread of bacteria a worry on every chef's mind, automatic kitchen faucets can put everyone's mind at ease, knowing that touching the faucet lever is optional.
If you enjoy having the latest technology and would like to have smart kitchen appliances, an automatic smart faucet or touch faucet may be the best choice for you. Just tap the side of the faucet or place your hand under the head and the water will turn on by itself. If you have an automatic faucet, consider installing a touchless soap dispenser. This will make your kitchen even more sanitary!
---
To view a variety of kitchen sink faucets that fit any space and style, such as Moen Canada faucets and Delta faucets, visit your local Kitchen & Bath Classics showroom today.
Featured Image - Blanco faucet, available at Kitchen & Bath Classics Showrooms