Ah, the bathroom. No home can be complete without one, yet many are simply unexciting. This most functional room in the house often does not receive as much love and attention as it should.
If you're pinching pennies, you likely don't want to blow your budget on a custom or fancy toilet. So you'll probably end up with a white toilet. Then, you'll choose tiles that match the toilet to keep it simple, and you'll end up with a plain white bathroom.
But if you are ready to spruce up your lavatory, why not make it feel like a hotel? You can even give it a spa-like feel! If you're looking for luxury while on a budget, follow our tips below.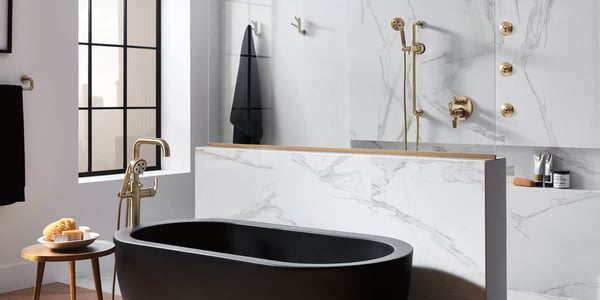 Brizo walk-in shower, available at Kitchen & Bath Classics showrooms
1. Time for a shower
If you have a tub that's barely used in your home, why not convert it to a beautiful walk-in luxury shower? After all, most people prefer showers to baths for the purposes of regular hygiene. HouseLogic's recent spotlight, dubbed "Stop Hating Your Bath," offered an array of advice for how to improve your bathroom.
One suggestion outlined how to swap out a tub wisely. If the only bathroom in the home has a tub, it is not the greatest idea to remove it. This may devalue the home in the long run. Also, it's not the best idea to put a walk-in shower if the existing tub already has a window above it. HouseLogic advises that this may cause mould issues in the long run.
Finally, be sure that you make the correct measurements and tile your shower so it fits the space. Those seeking more guidance can stop in at their Kitchen & Bath Classics showroom to speak with our professionals.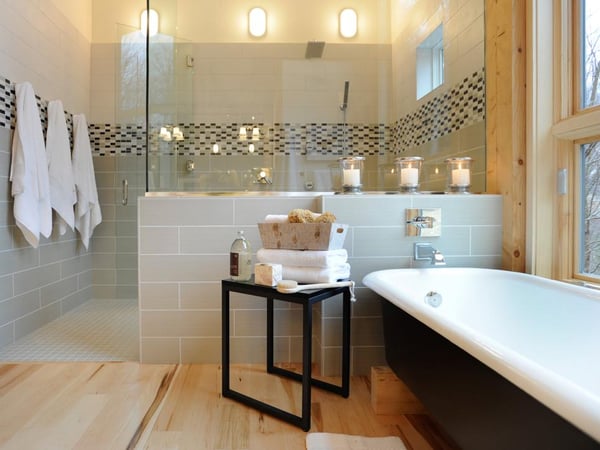 2. Get the spa feel
If you don't want to entirely re-do your bathroom, you can make small changes to prompt the feeling of luxury with luxury bathroom accessories. Start by swapping out outdated bathroom faucets for those that look sleek and modern, or perhaps install a new rain-style shower head or even an eco-friendly low-flow showerhead.
Alternatively, look for a height-adjustable shower fixture that enables everyone in the house to get clean in comfort. The Huffington Post added that other details can boost the spa-like ambiance in your bathroom, like picking up a towel warmer or bringing some plants into the space.
Try out some unique colour palettes to bring in more natural, earthy tones that you'd find in a spa. A pale blue shade of paint can feel soothing, and grey tile may also look trendy and reminiscent of rocks under water.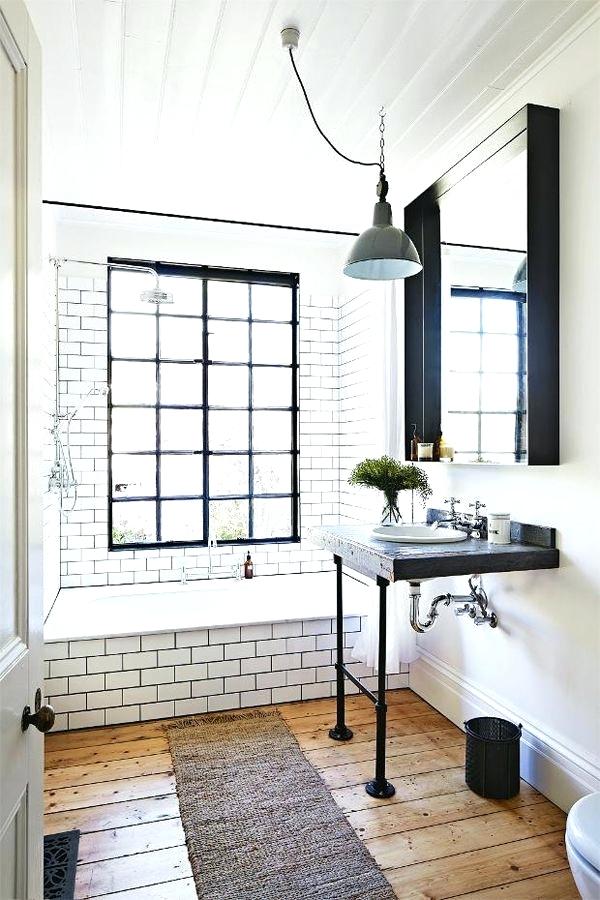 3. Bring in some new tiling
Although tiling wall surfaces can give your bathroom a polished look, it can become very costly. A common trend among high-end bathrooms is a classic: white ceramic subway tiles. If you want to add a bit more visual interest to the white tiles, consider using a dark coloured grout. You can often find grey or dark grouts at the same price as simple white grout, so no extra cost!
When it comes to tiling, another idea is to find an out-of-the-box dimension, Forbes suggests. Instead of using the standard 3-inch by 3-inch format tiles, try tile sizes such as 1-inch by 9-inch tiles or even 4-inch by 8-inch tiles. This will make your luxury bathroom stand apart from others.
Lastly, consider installing a tile rug. Many bathroom designers will recommend that if you splurge on one area of a bathroom renovation, it should be the floor. This is because it has the biggest impact on the appearance of your bathroom. So, instead of placing a pricey mosaic everywhere, use eye-catching tiles as a focal point in the centre of the bathroom. Then, use a coordinating, simple stone around it.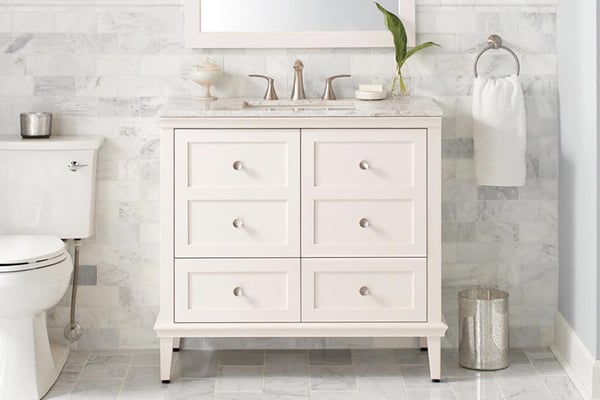 4. Upgrade your vanity
If you don't have enough funds in your budget to purchase a new or custom bathroom vanity, don't worry. Some pretty, elegant hardware can make even a simple vanity model look unique and luxurious. To find some special hardware, try a vintage or specialty store.
If you are looking for a new vanity altogether, try repurposing a piece of furniture you already have or one you find at a flea market into your own new and unique luxurious vanity.
Beautiful bathrooms all need final finishing touches. When you have settled on shower, tile and fixture options, feel free to accessorize the space. Some neutral artwork or photography can elevate the room, while attractive storage options can personalize the space to you and your loved ones.
---
If you need more inspiration or are looking for a few features to create a luxurious modern bathroom, head to your nearby Kitchen & Bath Classics showroom.