Whether you're a gourmet chef or more of a microwave dinner kind of person, you probably spend a decent amount of time prepping and eating meals. No one wants to do that in an ugly kitchen. So, if you want to do some minor home renovation projects that you'll be able to enjoy on a regular basis, the kitchen is a great place to start. A few simple changes can make even the dreaded chore of washing dishes more exciting—or at least more visually appealing!
When it comes to home renovation, sometimes little changes can make big differences. If you don't have enough time to replace your kitchen sink as a whole or perhaps can't find the room in your budget to upgrade to a new stove, there are minor and cheap kitchen upgrades that can enhance the whole room.
Upgrade your old kitchen this weekend with these eight easy projects perfect for any skill level: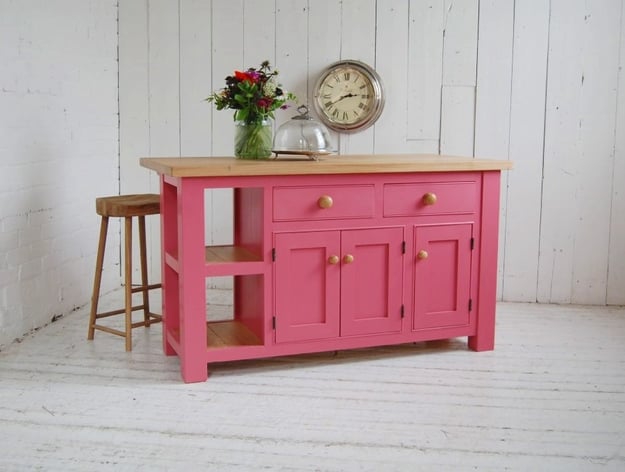 Paint the Cabinets or Your Kitchen Island
Sometimes all it takes to freshen up your kitchen is a new coat of paint. You don't even need to worry about the walls. Simply changing the colour of your cabinets can really alter the feel of the room. While a bright shade may be tempting, you might want to reconsider. According to Oprah.com, you should opt for a more neutral tone. Jesse Carrier, of New York City interior design firm Carrier and Company, agreed.
"Go calm and light—you're in the kitchen all the time, and you can grow tired of a bright color," Carrier told the publication. His personal recommendation is a white with a gray undertone, as beige tones can look dirty and stark white is institutional.
If you choose to keep your kitchen cabinets white or as is, try painting your kitchen island. Choose a bright, colourful option to make the island really pop. While white cabinets help a kitchen feel crisp and clean, too much white can begin to be a bore. Painting your kitchen island a fun colour like robin's egg blue can quickly turn an ugly kitchen into an exciting kitchen.
Install Under Cabinet Lighting
There's nothing like a little mood lighting—even if it's for your kitchen. Add a bit of class to your countertops by installing under cabinet lighting. All you need to do is buy a few click on LED lights and stick them underneath your cabinets. Then, with the push of a button, you'll be able to turn on the lights whenever you need them. Forget about complicated wiring! Better yet, you'll also likely find that it's easier to read cookbooks and labels with that extra bit of light shining from under your kitchen shelving.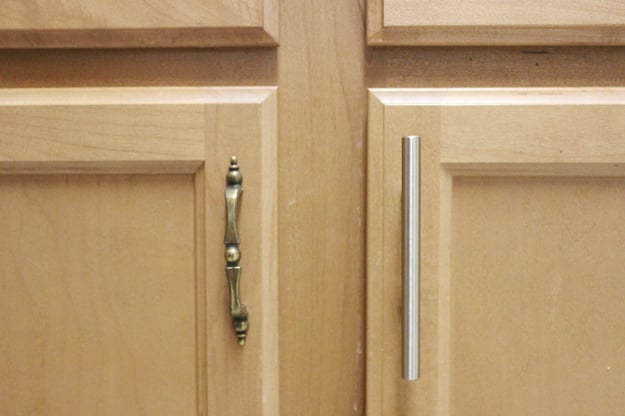 Buy New Knobs
Looking for a little change that can make a big difference in your old kitchen? Try replacing the knobs on your cabinets and drawers. All it takes is a screwdriver and a little bit of time. You should probably go for something classic if you already have a busy pattern on your walls or elaborate lighting fixtures as focal points. But, if your kitchen is simple, consider opting for something more unique to make a statement. It's an extremely affordable way to dress up your kitchen.
Remove Cabinet Doors
If your kitchen layout is narrow, Better Homes and Gardens recommended giving the room a sense of openness by removing the doors from your cabinets. And what better way to show off all of your favourite decorative dishes? Once you take off the doors, the publication reported that you'll need to fill the holes with wood filler and sand the areas until smooth before painting or staining the cabinets.
Create Window Shelves
Why waste any space in your kitchen? Even if you have plenty of storage elsewhere, a fun and cheap kitchen upgrade is to turn a bright window into a display. Window shelves are a great spot for growing herbs and flowering plants, a place to display vintage pieces in your kitchen colour palette, or even essential kitchen utensils and items that you'd like to be seen and keep in easy reach.
Chalk Up the Walls
Turn the fun, current trend of chalkboard paint into a simple kitchen update for your home. A kitchen remodel cost can quickly skyrocket. However, there are ways to upgrade your kitchen both simply and cheaply but in a big way. For instance, chalkboard paint is an inexpensive way to turn a boring part of your kitchen into a personalized family hangout space.
All you need to do is paint a wall or section of cabinet doors with the chalkboard paint. Then, have your family and friends write and draw on the walls. (This is also a fun way to leave reminders and lists for forgetful family members!)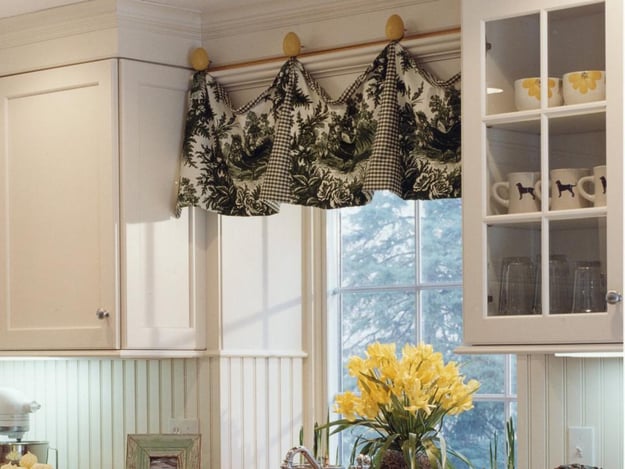 Hang a Cute Window Topper
Do you have any colourful unused fabric lying around? Perhaps you have a bright tablecloth or shower curtain you don't use anymore. Even a fun apron will do the trick for this kitchen upgrade. You don't need to be a professional or even an amateur sewer for this update either. Turn the fabric you choose into a cute no-sew window topper by cutting the fabric to size, then creating a pocket to hang it from. Top it off by using iron-on fusible webbing to clean the edges, HGTV suggests.
Replace Your Faucet
If you're tired of your boring fixtures, there's no need to deal them any longer. Replacing your faucet is an easy way to give your kitchen a different look. Go for something modern, like a minimalist, chrome touchless faucet. Or, consider a more decorative option to finish off your farmhouse kitchen theme decor. With so many styles available, changing this part of your sink can have a big impact on the tone of the room.
Want to see a variety of faucets and other essential fixtures to complete your kitchen upgrades? Visit a Kitchen & Bath Classics showroom, where our experts will help you make the perfect decision for elevating the decor of your room.