Open kitchen designs often include open shelving. Whether it's wooden kitchen shelves, floating kitchen shelves, or anything in between, open shelving makes for a light and airy kitchen vibe. Ditching your normal kitchen cabinets for open shelving can make a big impact for a small price. So, if you're looking for an easy and inexpensive way to upgrade your kitchen on a budget in a big way, get rid of your upper kitchen cabinets and replace them with some shelves.
Before, during, or after you've made the switch to open shelving, take the tips below into consideration to achieve your most attractive and unique kitchen.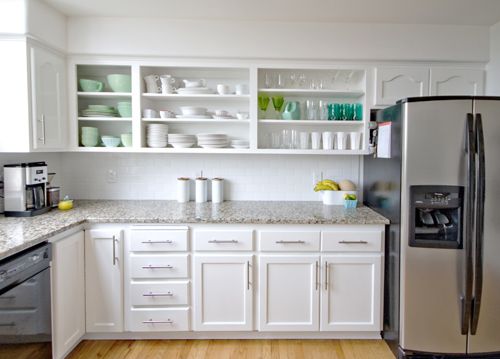 1. Give open shelving a test run
Before fully committing to open shelving in your kitchen, give the idea a test run by removing a pair of cabinet doors from the kitchen cabinets you already have. This way, you can still change your mind, as you can always reattach the cabinet doors if the idea of open clutter freaks you out.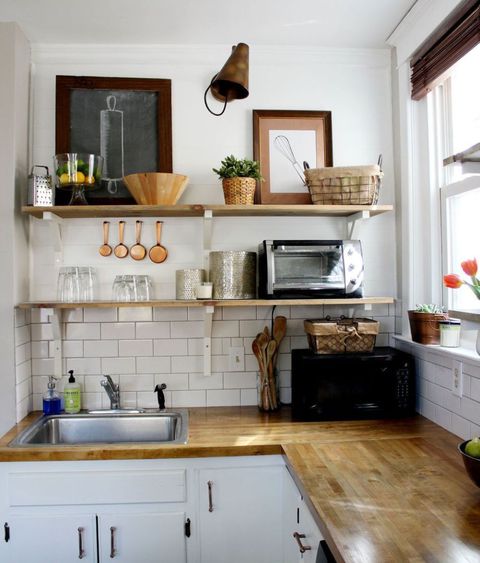 2. Fill based on functionality
Fill the bottom shelves of your open kitchen shelving with functional items. Just like any other kitchen shelves, organizing is imperative. To make sure your open shelving is as functional as possible, place your most-used items on the bottom shelves. Then, store the less-used and more decorative items on the highest kitchen shelf.
Open shelving also works in your favour in your kitchen because you can't simply cram items into an empty space like you may be tempted to do with cabinets, which will hide the mess.
3. Mix it up
To achieve a unique yet cohesive look on your kitchen shelves, mix functional and decorative items in your open shelving. Although open shelving is a valuable space for your every day and most-used items, you should also leave room to include some keepsakes and cookbooks.
Not everything you keep on your shelves needs to be functional. Try mixing functional pieces with antique finds, like a vintage piece with a great shape.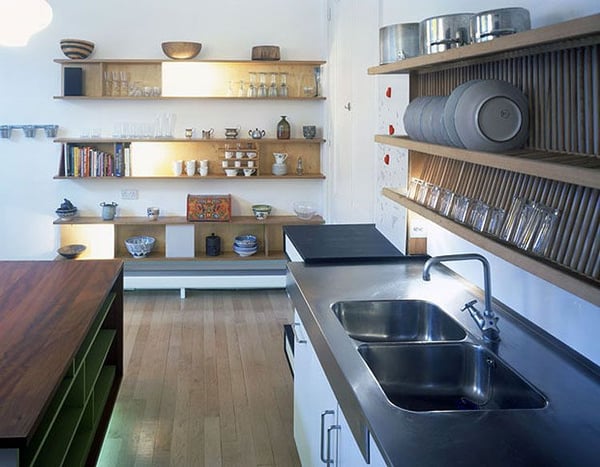 4. Add a drying rack
You don't just have to stick to one kind of shelving in your kitchen. Instead, mix and match modular shelving by adding a dish shelf. Position floating wooden kitchen shelves any way you want and try combining different sizes and finishes, such as stainless steel on a drying rack to add an eclectic effect, DIY Network suggests.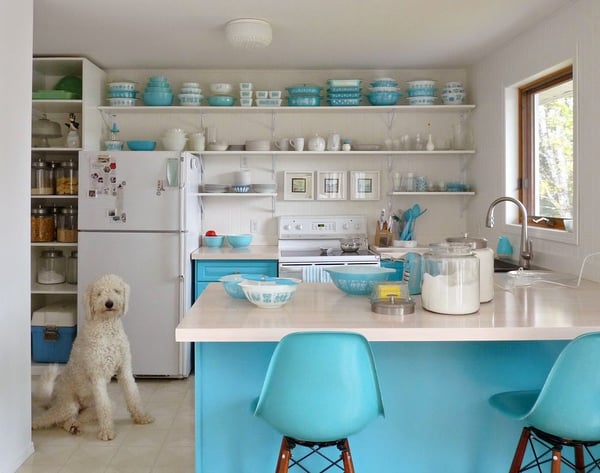 5. Tell a story
Let your favourite kitchen items or dishware collections be the design guide to your open shelving, and use this kitchen shelving to tell a cohesive design story. Leung suggests picking a colour scheme, some of your favourite dishware, and then adding a white or another neutral colour to "fill out the display."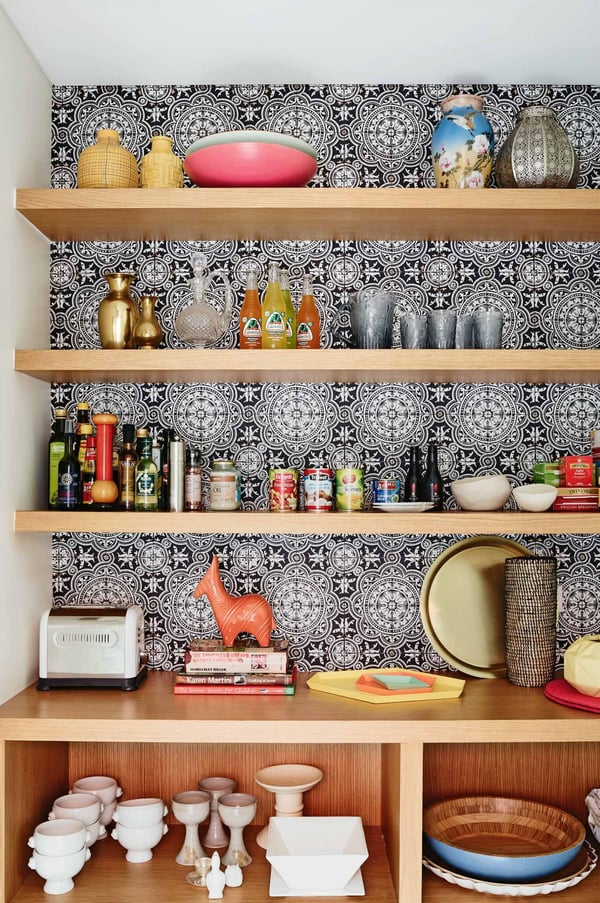 6. Include a pop of colour
To add some energy to your kitchen, add a bit of colour to your open shelving. Do this by coating the backs of open shelves in a saturated paint colour or covering them in a bright, fun wallpaper, DIY Network suggests. Start by choosing a colour that strongly contrasts with the finish of your kitchen cabinets. This will create an emphatic statement.
Or, if you prefer a more subtle look, choose a more restrained hue. The colour you decide to add will depend on what it is on your open kitchen shelving that you want to showcase. For instance, are you looking to highlight your white dishware? If so, choose a bright backdrop such as turquoise.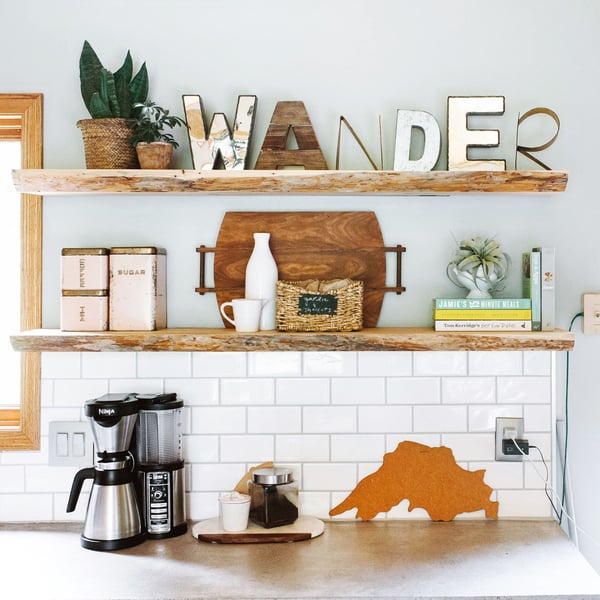 7. Incorporate live-edge shelving
According to The Spruce, the majority of floating shelves in farmhouse style kitchens are made from stained or reclaimed wood. However, if your style is slightly more edgy or eclectic, try using live-edge shelves. Live-edge shelves are slabs of wood where some of the bark is still visible, The Spruce says. These shelves add more of a rustic charm to any kitchen, although they come at a higher price. Usually, live-edge shelves are more expensive to purchase than basic wood shelving.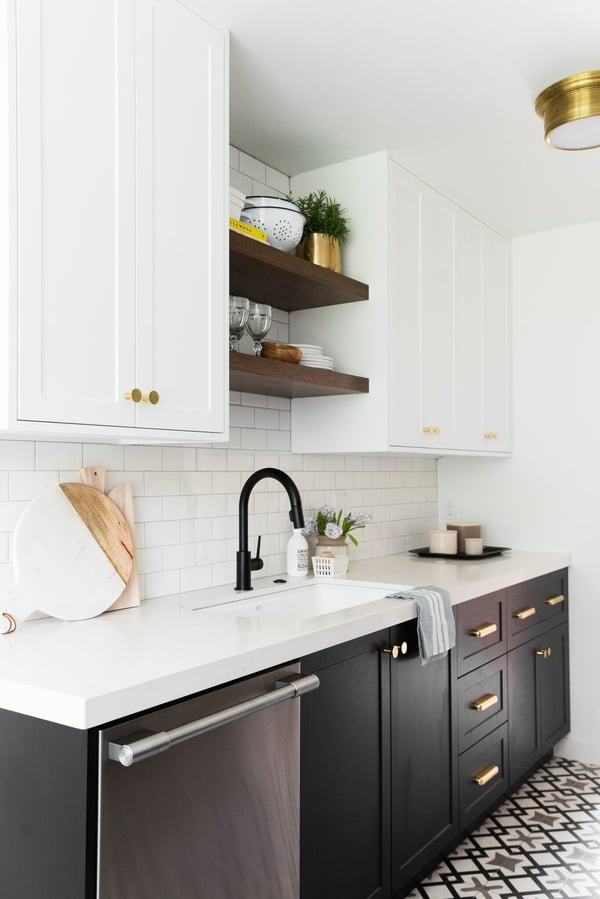 8. Place open shelving above the sink
In the majority of traditional kitchen layouts, you'll find a shorter kitchen cabinet placed above your kitchen sink. But, while this look is traditional and normal for most, it doesn't necessarily need to stay. Removing the cabinet above your kitchen sink and replacing it with a few well-placed open shelves will create a more airy feel in your kitchen.
Additionally, this area is a prime spot for storage and will come in handy for things like dish soaps and other kitchen necessities that won't be harmed from being exposed to the humidity from the sink. According to The Spruce, this spot is also ideal for houseplants, as many will thrive in such a location.
---
For more inspiration or for help planning your next kitchen or bathroom renovation, head to your nearby Kitchen & Bath Classics showroom. Our showroom consultants have all the helpful information you need to create the perfect kitchen and bathroom in your home.