A kid-friendly bathroom can be a great addition to your home, especially if you have children and sufficient bathrooms! By giving the kids their own bathroom space, you maintain a bit of your own privacy and allow them to have a bit of independence and responsibility.
For a kids' bathroom your children will love, follow the eight steps below: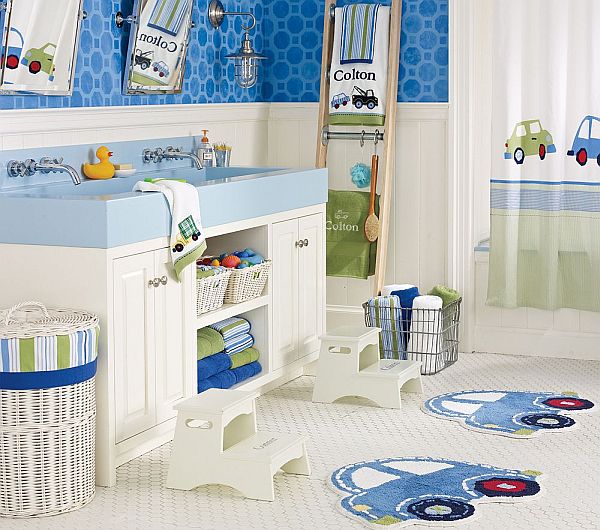 1. Pick a theme
Choosing a bathroom theme is the first step to designing a great kids' bathroom. Choose a theme for your décor and then, stick with it. Some stores make it easy by providing kids bathroom sets.
However, if you choose to pick and choose your own, remember to use theme elements sparingly. Using the same bright theme characters on the walls, counters, and shower curtain can be too overwhelming and look too busy.
Instead, paint your kids' bathroom a solid colour and use a fun character-driven shower curtain with colours that compliment the wall or vice versa. You can also add a theme border.
Smaller knick knacks and bathroom essentials such as toothbrushes, children's towels and fixtures can all help add to a themed and unified look. However, pay attention to the colours and make sure they aren't clashing.
2. Keep the whole family in mind
However, HGTV reminds home decorators that kids will soon be too old for lighter, pastel colours and childish decorations. Instead, you should try and design a bathroom that will appeal to the whole family, and you should try to go bold with the colours.
One example is a gender-neutral bathroom for both a boy and a girl decorated in turquoise and orange. There is ample space for each child, including two bathroom sinks.
If the bathroom will be used by more than one child and there is not room for more than one sink, you might want to consider installing a larger bathroom sink and vanity. This will help ensure there is room for each child's toothbrush and other personal items.
3. Accommodate kids' needs
Smaller children often need a step or stool to reach the sink. You can invest in a folding stool which can be used anywhere in the house. Or, you can go with an idea from Southern Living: creating a recessed step under or part of the bathroom cabinets. It can be pulled out when someone needs to reach the sink, and simply pushed back to remain part of the bathroom cabinet for the rest of the time.
Southern Living suggests placing artwork and towel hooks at kid-height. If you choose to go this route use hooks that are attached to the wall with a sticky backing. As the kids get older and grow, you can adjust the hooks to be of a more appropriate height and move up the artwork as well.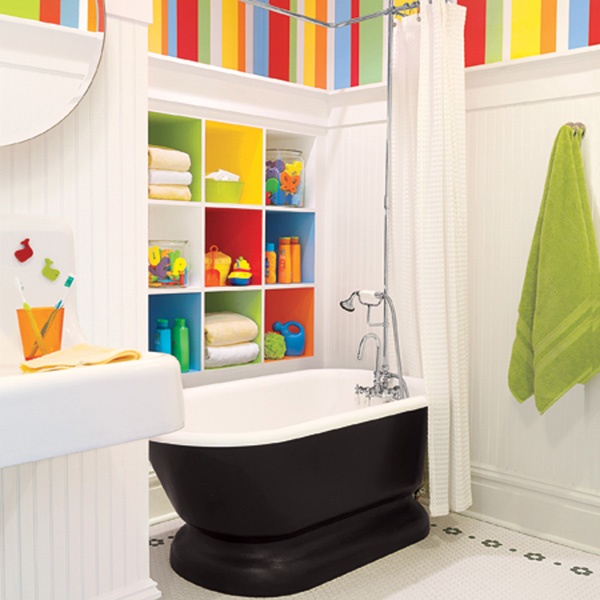 4. Use bright colours
Using bright colours as part of kids bathroom decor can help it maintain a youthful vibe without appearing to be immature.
Additionally, even while you liven up the bathroom with bright colours, you should make sure to stick with your colour scheme throughout the bathroom. And, if the bathroom connects to the bedroom, continue using the same colour scheme in both.
5. Paint a mural
Get creative and have fun with some paint in your kids' bathroom. Adding a mural on the wall of your kids' favourite character or characters can be an awesome touch if the bathroom is big enough. If your kids' bathroom is smaller, try painting multi-stripes on the walls instead.
6. Don't forget about safety
While your kids' bathroom should be fun, it also needs to be safe. Some absolute safety must-have products include tub mats, drain and faucet covers, and a cover clamp for your toilet. Bathmats can easily be incorporated into the bathroom theme.
Drain and faucet covers will protect your children from banging against the metal edges or accidentally turning on hot water. While most look fairly simple and standard, you can sometimes find something like a spouting elephant (make sure the cover fits your theme, however).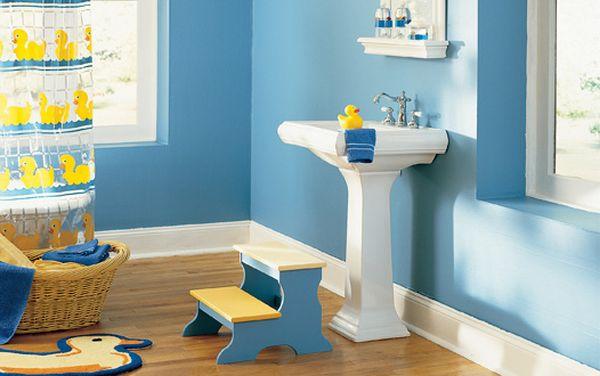 7. Make the room appealing to kids
Adding a little whimsy with small, decorative touches is another way to make the bathroom appealing to kids. The website suggests using "quirky" elements like a funky zebra head wall hanging or unusual wall sculptures to give the room a more youthful element.
8. Involve the kids
Always involve kids in the redecorating project for their own bathroom. You can involve by selecting decor so the kids feel involved, eventually creating a great space. Their input can be valuable and help you discover their preferences for the space, which is particularly important as they will be the ones using it most. It can become a fun activity for the whole family—with a beautiful outcome.
---
Once you've completed designing your kids' bathroom, it's time to conquer your own luxurious master bath. Head to a nearby Kitchen & Bath Classics showroom for everything you need to complete the project.