In your kitchen, much of the furniture, appliances, and containers are located against the walls. The fridge, kitchen cabinets, stove and sink—to name a few—are all up on or pushed against walls. But without a kitchen island, there is only so much space that you can take advantage of.
When trying to find extra space to keep your things functional and organized in your kitchen, turn your eyes to the centre of the room. Kitchens with islands are an increasingly popular trend that gives you more room to work with in terms of both surface area and storage options.
If you are looking to make a significant change to your kitchen that will increase the functionality of the space, an island may be the right decision.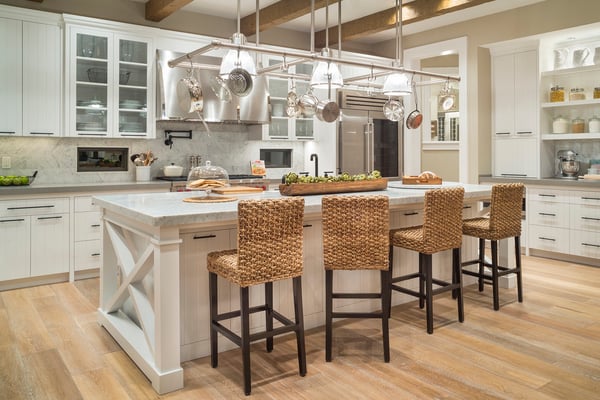 Benefits of a Kitchen Island
Before you start a major kitchen renovation project, you need to weigh the advantages of the new addition to your kitchen against the cost required to install the fixture.
Benefits of having an island in your kitchen include:
Extra surface area
If you love to cook, an island will give you extra surface space for food prep. Chopping vegetables, stirring batter and prepping all of your favourite recipes is much easier when you have ample room to work on.
More storage
The increased surface area is definitely a plus, but so is the space below the counter. The area beneath can be used for additional storage to help you organize your pots, pans and other necessities. And, if you have the extra space, you can even add an appliance to your island.
Additional sink
If you want an extra sink, an island is a perfect location. At your local Kitchen and Bath Classics showroom, you can look through a variety of sink and faucet options from trusted brands to outfit your new addition.
Increased entertaining
Do you love spending time with people? An island with seating, such as barstools, gives you another place where friends and family can gather to talk and create memories.
Improved home value
Even if you do not plan on staying in your current home indefinitely, an island may still be a good investment. This kitchen feature can increase the value and appeal of your home if you decide to sell.
New kitchen layout
Adding a kitchen island can easily convert a kitchen layout. For example, an L-shaped kitchen can quickly be turned into a U-shaped kitchen with an added island. Then, with an open concept plan, you can interact with those not in the kitchen while you're creating meals.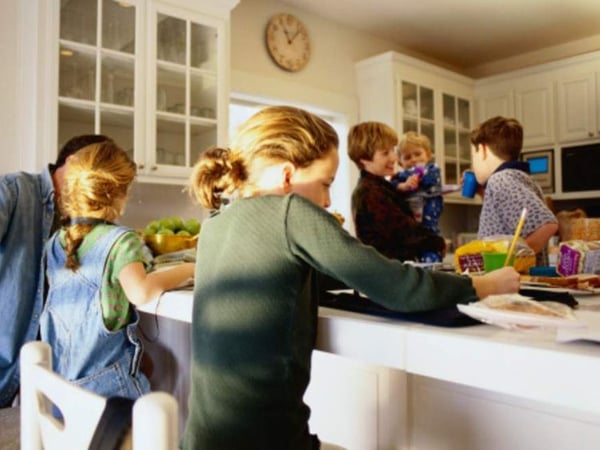 Considering Your Kitchen Needs
Though the benefits of an island are numerous, it is not the right choice for every kitchen. Before you get started, you should think about your own kitchen needs and your existing parameters, including the amount of space you have to work with.
Before deciding to install an island in your kitchen, consider the following factors:
Existing space
Though an island is useful, it is not worth installing if it will make your kitchen too crowded to move. National Kitchen and Bath Association (NKBA) guidelines state you should have at least 42 inches of clearance on either side of an island for space to get by. For safety purposes, with an island or peninsula, the countertop should also extend at least 9 inches behind the cooking surface if the counter height is the same as the surface cooking appliance, says Better Homes and Gardens and NKBA.
Before even considering having an island installed, take measurements. Make sure you have plenty of space and choose an island that is an appropriate size for your kitchen.
Kitchen habits
If you rarely use your kitchen, an island may not be worth the effort it will take to install. Instead, it may be smarter to purchase a kitchen cart or a rolling kitchen island. A trolley cart or microwave stand could be a better option especially if you're in a smaller space.
Storage needs
Need more room to store your small appliances and other kitchen necessities? An island might be the way to go. Depending on the size of your island, you should be able to install several drawers or cabinets to increase organization. There are many of kitchen island designs to choose from, so if storage is your main necessity, go for one with lots of space to stash your cooking utensils.
Desired appliances
If you want a wine cooler or trash compactor, an island could provide an opportunity for these extras. Some even involve ovens or ranges, though the installation for these types is much more intensive.
Still not sure if an island is the right choice for your kitchen? Visit a Kitchen and Bath Classics location today for some advice and suggestions on your home improvement project.