Thanks to the trend of tiny houses, people are becoming more interested in living in smaller spaces. These pint-sized spaces are often, less than 300 square feet in size, according to Country Living.
You can build a tiny house from a kit, or even turn an old shipping container into your new dwelling. With a tiny home comes a tiny kitchen, usually by choice. This means that you need to become a small kitchen design expert if you want to make the most out of your space.
However, some people with limited apartment kitchen space are forced to navigate tighter quarters than they might like. No matter how small your kitchen, whether by fate or by choice, there are many ways to maximize your space. After all, you want to be able to inhabit your kitchen comfortably.
Here are our tips on making the most of your cramped kitchen: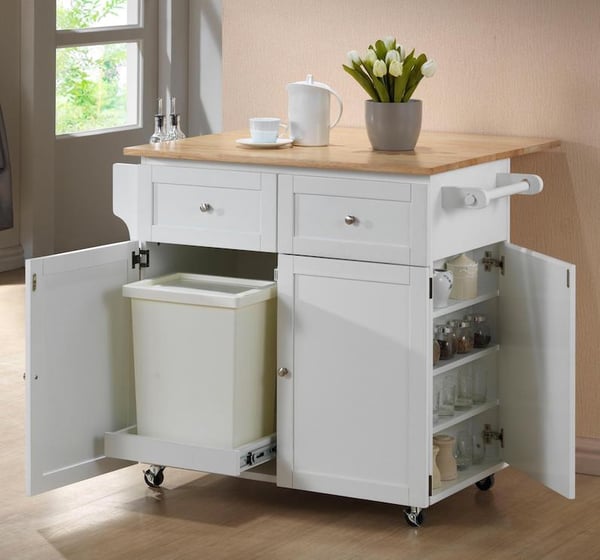 1. Focus on Function
In order to make sure your small kitchen design accommodates your needs, first focus on function. Begin by ensuring you have all the kitchen appliances you need and work areas as well.
If large appliances prove to be a problem, look to save some space by using scaled-down appliances. These innovative smaller appliances can include fridge and freezer drawers and mini microwaves. You may even consider smaller stoves with just two burners and single sinks.
Are you having trouble finding the workspace you need to cook in your tiny kitchen? Consider installing a small-scale kitchen island. You can also add a piece of counter material to a store-bought kitchen cart! Then, you can roll it away to a more spacious area when you don't need it.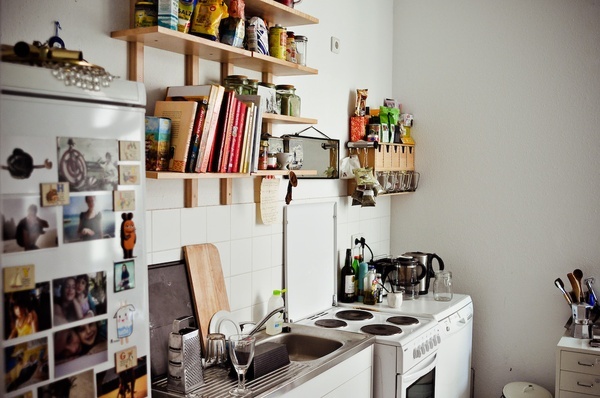 2. Small Kitchen Storage
If your tiny kitchen is beginning to feel claustrophobic and overwhelmed by overhead cabinets, consider these small kitchen storage ideas:
Trade top cupboards for open storage to avoid a feeling of being boxed in
Hang shelving, pot racks, and/or pegboards to relieve some counter space
Turn the "drawers" below the sink that don't open into kitchen sink tip outs
Put up cork board or a magnetic board on the inside of your kitchen cabinets
Replace your countertop knife block with a magnetic knife strip to hang your essential kitchen knives
Rather than stress about adding a draining board, look for a dish rack that folds into the wall or that can be collapsed when not in use
Give the room the ambiance of a professional chef's kitchen by installing a metal rack either above the kitchen island (if there is room) a small breakfast bar
In general, keep in mind that when you have a small kitchen design, containing clutter is important to make the most of your kitchen storage space.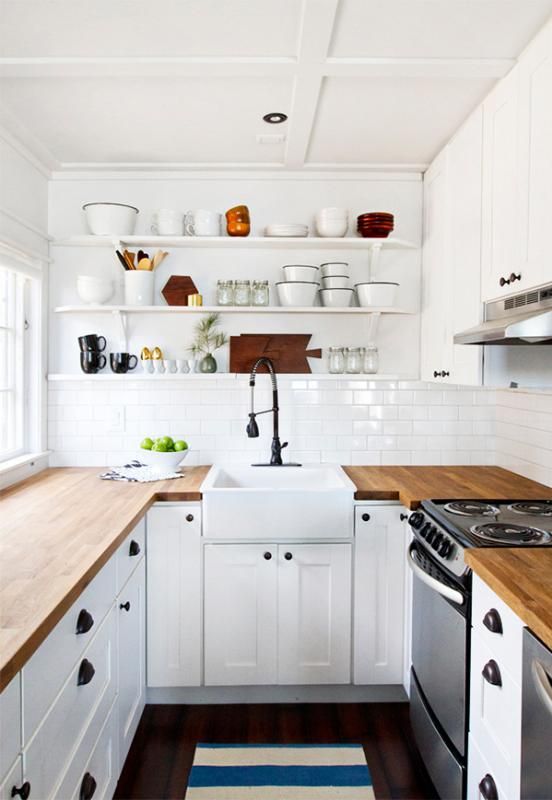 3. Create Illusions with Colour
To present the illusion of a larger space, Coastal Living recommends painting everything white. This may not be the best idea for those who tend to get messy while baking and cooking, as you'll be cleaning a lot. But fresh, bright white walls and kitchen cabinets will look airy and spacious.
Coastal Living also suggests incorporating wood and wicker elements into the white small kitchen design. Look for a light fixture made from woven wicker or a basket for a unique touch, and select stools while light wood legs to punctuate the brightness of the room.
If you're lucky to have a great view from a window, try to highlight this feature of your small kitchen layout.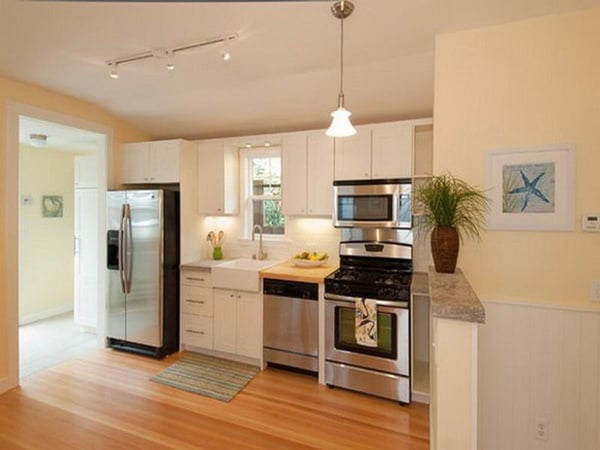 4. Consider the Kitchen Layout
When a kitchen layout is too small for even galley kitchen designs, a one-wall kitchen layout is the best option. The one-wall layout will become the best solution for saving space.
Single wall kitchens have the fridge, sink, stove, cabinets, and counters all aligned on one wall. Because this one wall will essentially hold all your kitchen needs, consider the most efficient order to place the items in.
For instance, HGTV suggests installing your sink next to the dishwasher and taking advantage of the entire wall space by installing floor-to-ceiling cabinets.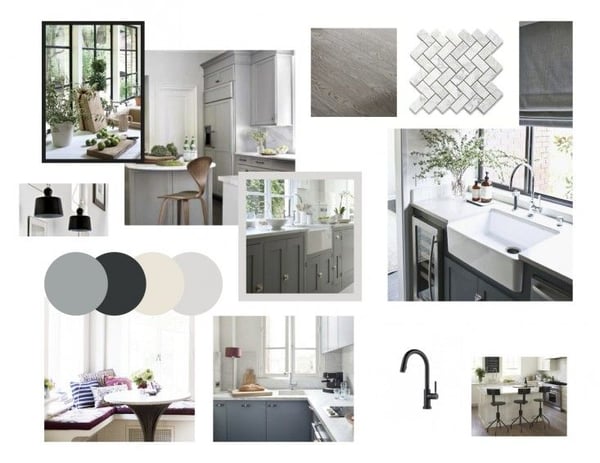 5. Make a Mood Board
In larger kitchen layouts, just as in any bigger area in your home, it is easier to hide flaws or separate competing styles. With a small kitchen layout or in small space design, this can be a bit more tricky.
To help with this issue, create a mood board of materials you're considering. Include the materials you want to use for your countertop surfaces, cabinetry, fixtures, and flooring; as well as lighting and colours.
Include samples and swatches of everything you're thinking about using in your small kitchen design to get a better look at how things will match up and look together. Also, keep in mind that using the same colour and styles for the fixtures and cabinet hardware will help unify the overall look and design.
---
If you're ready to maximize the space in your small kitchen layout or apartment kitchen, head to your local Kitchen & Bath Classics showroom. Our expert consultants can help you make design decisions related to your tiny space.