Showcasing a modern sink with a kitchen backsplash is a great way to make it the focal point of the room. There are many different styles of backsplashes available—ranging from shiny tile and metal to artwork painted on glass. Whether creating a backsplash is a do-it-yourself home kitchen improvement project or is professionally completed, the result will be the same: something that looks attractive, highlights the sink area and keeps the walls clean from water and food splashes.
Looking for backsplash ideas for your kitchen? Consider one of the six materials below before getting to work on your next kitchen upgrade.
6 Unique Kitchen Backsplash Ideas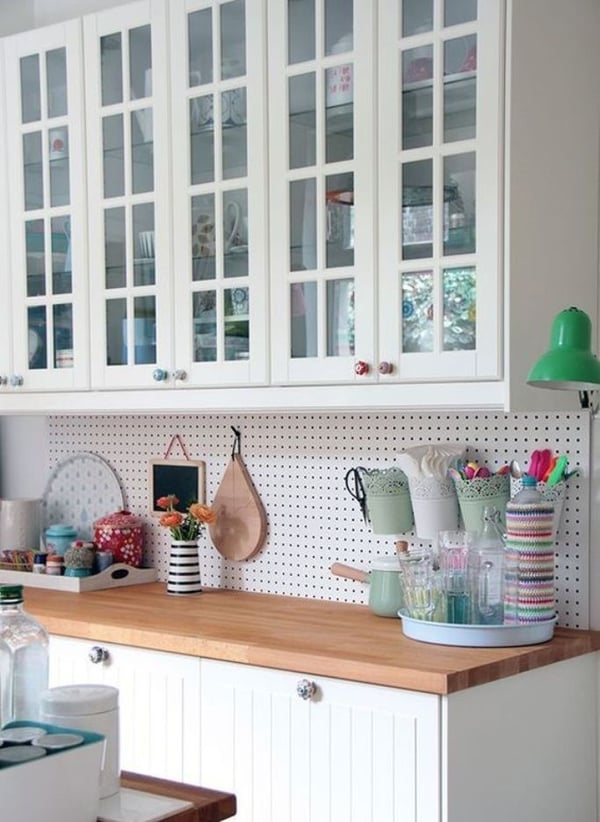 1. Pegboard
DIY Network has several backsplash ideas ranging from simple to elaborate. All of these relatively inexpensive ideas are designed for at-home installation, and have the capability to compete with top designer kitchen ideas. Those who enjoy adding their own touches to their kitchen may want to consider a pegboard style.
Pegboard style backsplashes are comprised of panels that are connected together and affixed to the wall. They can then be customized by adding hooks to display artwork or essential kitchen utensils. The result is clean and neat, and may be useful for those with smaller kitchens who want to free up counter space.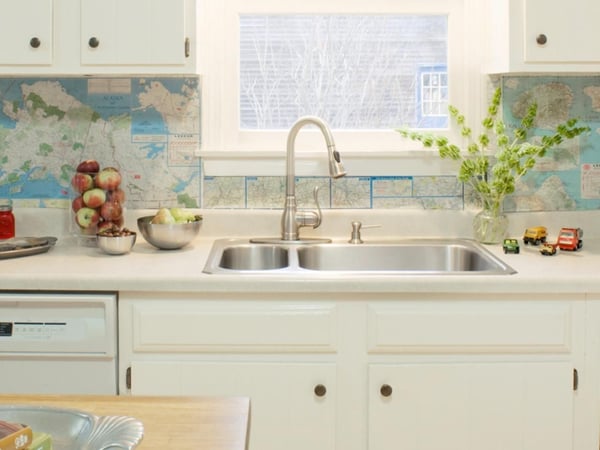 2. Recycled Maps
For a more vintage look for your backsplash, DIY Network suggests using old maps to create a backsplash. To create a recycled maps backsplash, first, attached the maps to plywood. Then, cut the wood to fit the backsplash area. Next, seal the map images with shellac to remain waterproof and to add sheen. Lastly, you'll need to attach the panel to the wall. To do this, place the panel onto the backsplash area and use drywall screws to attach the panel along its edges and into a couple of wall studs.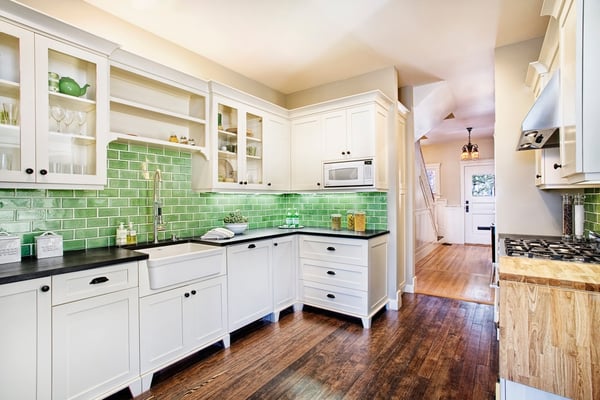 3. Tiles
Bidvine has some other ideas for daring home decorators. Kitchen tiles, whether mosaic tiles, wall tiles, etc. are always elegant and can be a good project for artsy types. The source suggests using Arabesque tiles, which are larger and slightly more expensive. They can provide a "high-end feel," ideal for a small kitchen.
Prefer a more random pattern? Bidvine advises using hexagonal backsplash tiles for a new backsplash. They fit together easily and can be arranged sequentially or punctuated with random dots of colour. This can add whimsy and visual interest to a kitchen that may otherwise be monochrome.
If you're thinking of installing a new kitchen backsplash, consider going green. Show your earth-friendly mindset while expressing your style by using recycled glass tile backsplash in your kitchen. You can also repeat this pattern by installing a recycled glass countertop as well to create a more cohesive look.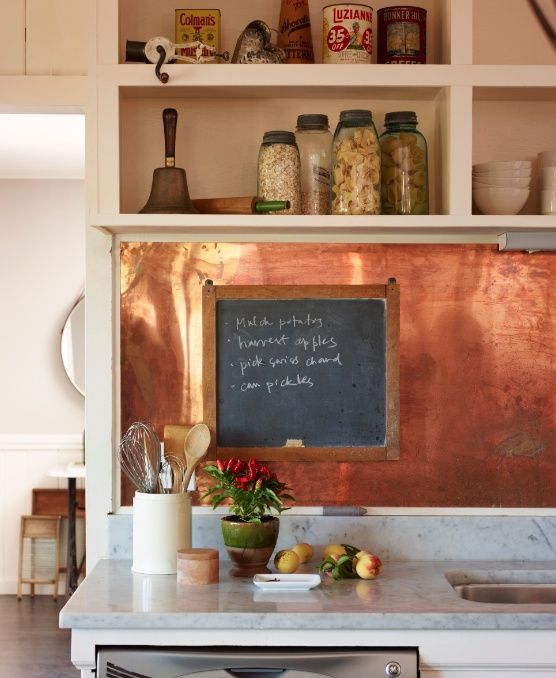 4. Copper
Those looking for a more modern and industrial look can consider using copper as a backsplash. According to the source, copper is durable, "long-lasting, and easy to clean, and these qualities make it an ideal material" for a kitchen backsplash. "It is also antimicrobial, killing almost 100 percent of bacteria that cause healthcare-related illnesses." Copper is a viable option for a backsplash, especially for those who prefer an extra clean home environment.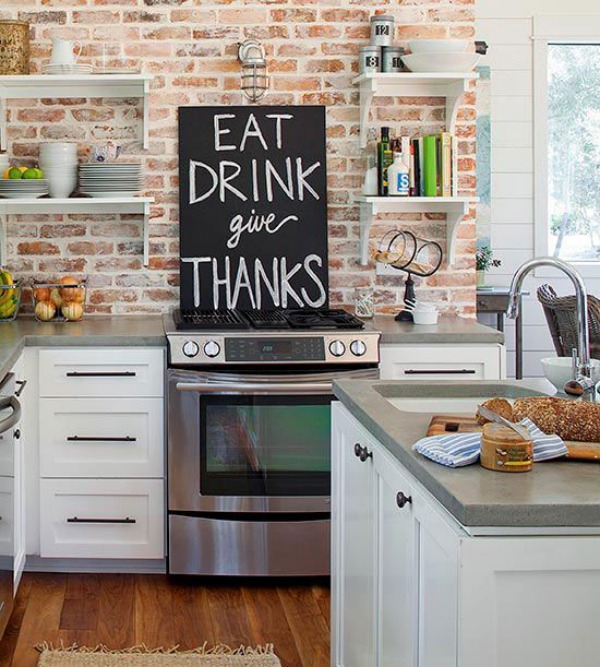 5. Brick
Brick backsplash is charming and filled with history. However, if there isn't brick on your house or hiding behind some drywall, it can be hard to make a brick backsplash a reality in your kitchen. As a solution to this problem, Remington Avenue suggests installing a DIY brick veneer backsplash.
According to Mysha of Remington Avenue, this project will cost you approximately $200 for 50 square feet of brick in addition to the cost of veneers, premixed grout, adhesive, and other supplies for this do-it-yourself project.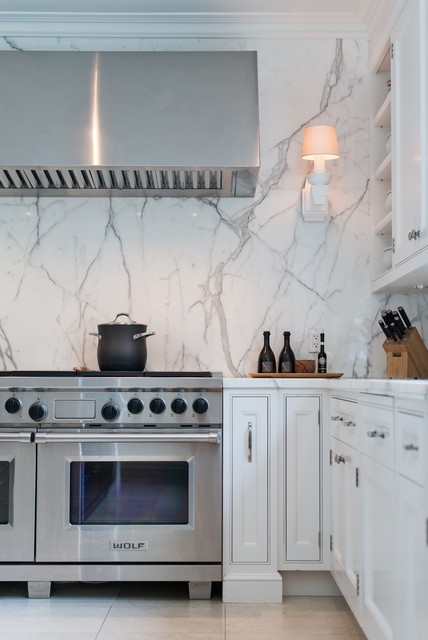 6. Marble
Finally, for those with an unlimited budget, marble is the most high-end of backsplash materials. It can stain easily, according to the news provider, which can dissuade some home decorators.
According to Calista Interiors on Houzz, if you're remodeling your kitchen with the future resale of your house in mind, a natural stone backsplash such as marble should be at the top of your list when considering kitchen upgrades. Travertine and marble are both timeless and well-liked, giving them top-notch staying power. Calista Interiors suggests marble backsplash will appeal to a large buying audience and has universal appeal.
Working on a new kitchen backsplash can be a fun project; a pop of colour, new tile or even something more innovative can make all the difference. Those who choose a backsplash to complement a sink or intricate faucet may create a true conversation piece. Making a kitchen upgrade is not an arduous task, and while the family might need to order takeout while work is in progress, the complete project will bring a little excitement to any home.
---
Visit a Kitchen & Bath Classics showroom today and let us help you facilitate your home renovation project decisions and design ideas.