Kitchen designs are always evolving. Sometimes, kitchen style ideas are inspired by past decades, and other times, kitchen design can reflect pop culture. Home decorators and those considering a kitchen renovation project will often look to industry professionals to see what trends will be coming in the future.
Simpler and smaller kitchens will be en vogue in the coming years. Design professionals feel that these preferences reflect a desire to become more environmentally conscious, as it takes less energy to power and heat a smaller space.
Additionally, some people are interested in living in smaller homes with a simple house design. These homes are often cheaper to buy and easier to maintain.
If you're a fan of the simplicity trend and are looking for a more minimalist kitchen, take note of the kitchen design tips below.
Simple Kitchen Ideas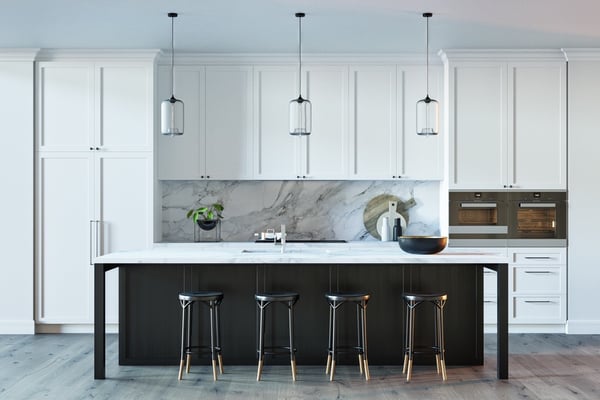 1. Use black and white
One of the classic kitchen designs you'll find is a monochromatic palette. Though simple, a monochromatic black and white kitchen design can still add some personality to the room. To add a touch of fun to a simple white kitchen, incorporate some black patterns such as a black zigzag running across a white counter or backsplash.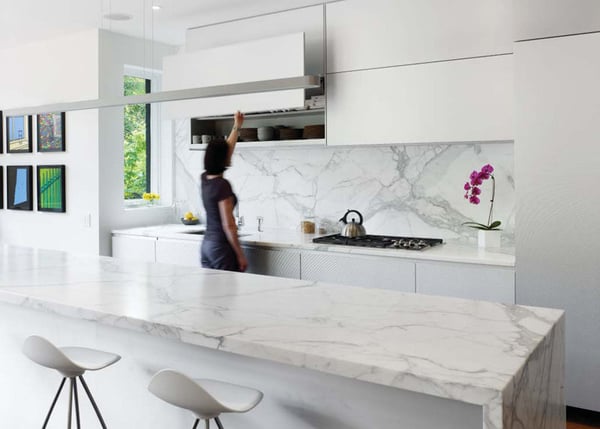 2. Or, all-white
For a minimalistic kitchen, you can also stick to just white. A classic white kitchen evokes an unfussy space, and this kitchen colour is something that will never go out of style. This timeless kitchen design also makes it easier to achieve smooth, even lines with all white. Cabinets don't need to have intricate doors, countertops can be smooth and one colour, and other elements like curtains and rugs will stand out pleasantly.
If you need some help determining the most simple and chic kitchen faucets and fixtures for a simple white kitchen, visit a Kitchen & Bath Classics showroom for some guidance from our professionals.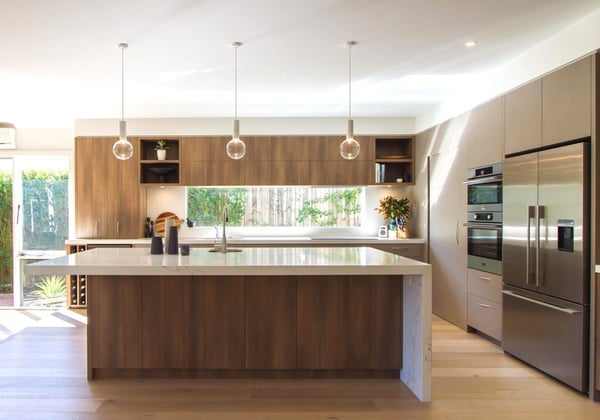 3. Incorporate practical features
Simple kitchen designs work best with practical features. Kitchen islands are one way to incorporate simplicity while including functionality. A kitchen island is multifunctional and can still look great. Choose a simple countertop for you kitchen island in order to maintain a minimalist look.
Next, take a look at your cabinets and consider removing the doors altogether. Cabinets without doors offer a simple look and saves you the trouble of opening your cabinets constantly. Make sure your three main kitchen features—stove, sink, and cabinets—are all equally uncomplicated to create the simple kitchen you're looking for.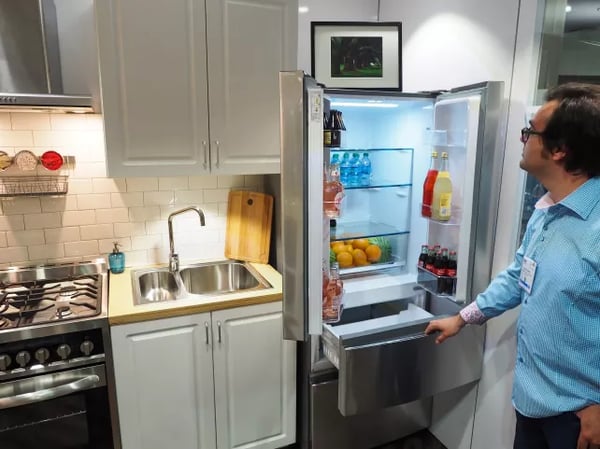 4. Choose smaller appliances
Maximizing counter space is something every home cook desires. Selecting smaller appliances will add to the air of simplicity in a kitchen and free up space on the countertops. A smaller stove will take up less room, and a microwave doesn't need to be enormous to be efficient. Instead, a more compact version of the appliance can easily be incorporated into overall kitchen decor.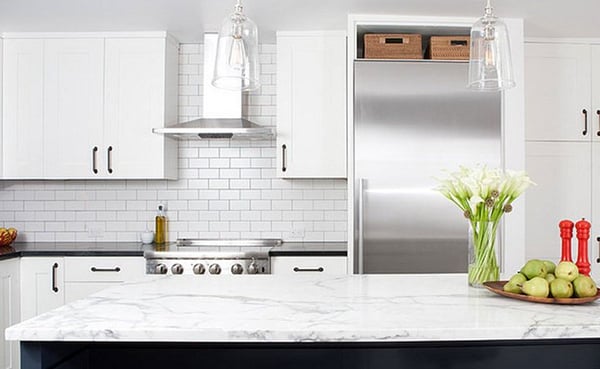 5. Go for simple kitchen tiles
It is also important to select kitchen tiles with an uncomplicated pattern. Subway tiles are often white, but the basic rectangular shape can be chic without becoming flashy. Keeping the kitchen tile designs subtle can downplay the room's aesthetic, allowing it to appear more like a functional, comfortable space—but still a true part of the home.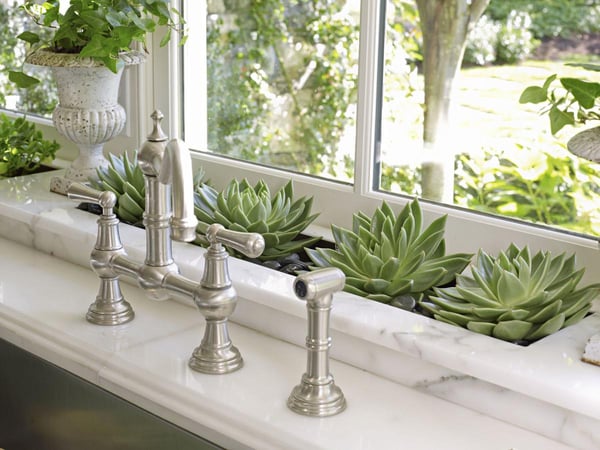 6. Pick out some plants
Houseplants with traveling leaves create a fabulous yet minimalist look on open kitchen shelves. Adding this touch of nature to your kitchen not only provides sustainable home décor, but plants also help to purify the air and increase humidity.
For some houseplants that are easy to care for and work well in kitchens, check out The Kitchn's recommendations of the best houseplants for your kitchen below:
English Ivy (Hedera Helix)
Aloe Vera (Aloe Barbadensis Mille)
Cast Iron Plant (Aspidistra Elatior)
White Jasmine (Jasinum Polyanthum)
Aluminum Plant (Pilea Cadierei)
Spider Plant (Chlorophytum Comosum)
Chinese Evergreens (Algaonema)
African Spear (Sansevieria Cylindrica)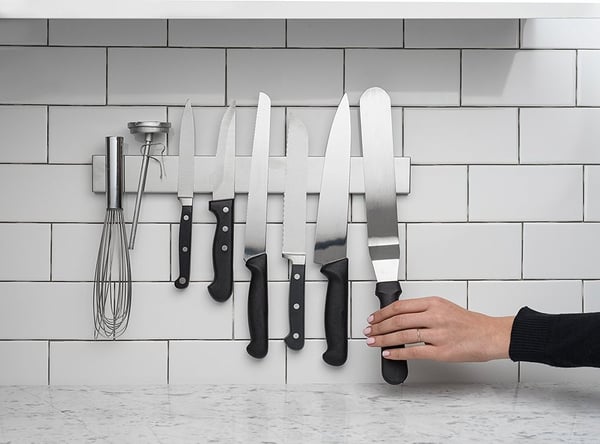 7. Display flatware and cutlery
Silverware or cutlery can look lovely on the wall against an empty backsplash. Instead of using a knife block to hold your knives, consider using a magnetic knife rack. For your other favorite flatware, HGTV recommends using cutes hooks or even combination of washi tape and string.
Other flatware to display can include charcuterie and cheese boards. According to HGTV, cutting and serving boards are a trend right now. This means you can find a variety of beautiful boards such as wood and marble cheese boards and charcuterie in most stores offering kitchenware. So, instead of placing these boards in your kitchen cabinet, put them on display! You can layer the boards to add architectural interest to a countertop or hang them to break up your backsplash, HGTV says.
---
Are you ready for the next step in your kitchen renovation or remodel to create a simpler kitchen? Head to a Kitchen & Bath Classics showroom for all the simple kitchen fixtures you may need.